the legends who played guild
In the 1950s, jazz and classical music continued to innovate before rock-n-roll took off in the 60s. To one extent or another, these forms of music drew from roots that were planted firmly in rural America. In the '50s, the mass migration of African Americans out of the South continued. Black sharecroppers came North for industrial jobs, and they brought their music with them. This migration had a tremendous influence on blues, jazz, R&B and rock-n-roll. For instance, one of the most popular routes of black migration was from Mississippi to Chicago. The rich tradition of Mississippi Delta blues came with the immigrants and added spice to the cauldron of Chicago music. The likes of Mississippi John Hurt, Johnny Smith and Muddy Waters influenced everything from jazz to country-blues. Most notably, Muddy Waters settled in Chicago, where he added piano, electric guitar and drums to the traditional blues guitar and created what some called "urban blues."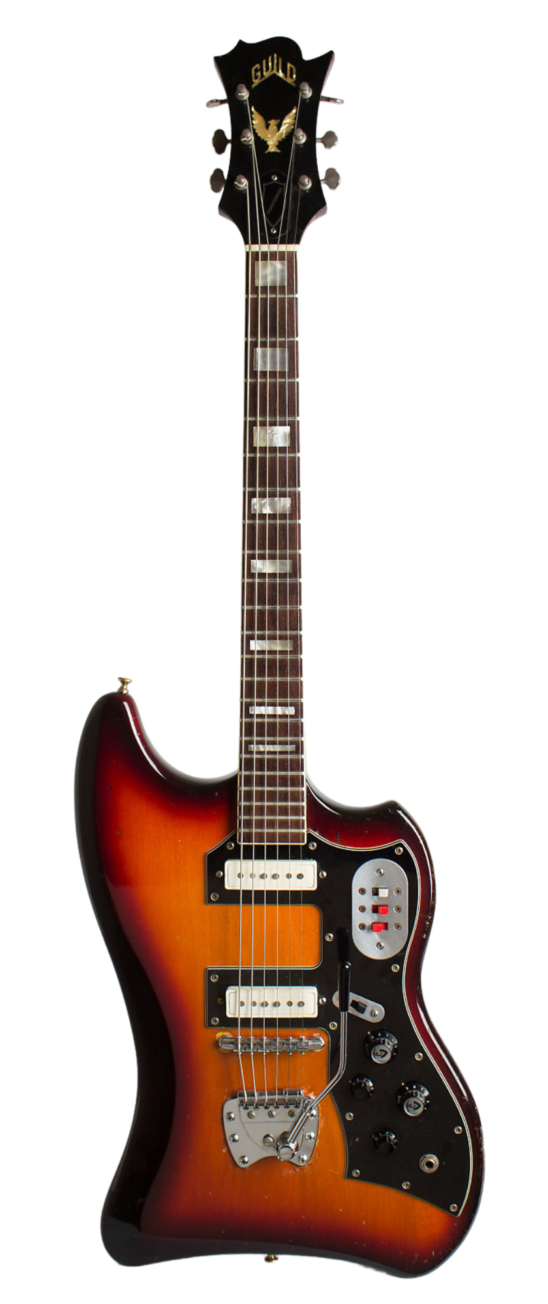 MUDDY'S GUITAR
S-200 T-BIRD
VIEW A NEW VERSION OF THIS GUITAR
MUDDY WATERS
McKinley Morganfield (April 4, 1913 – April 30, 1983), known professionally as Muddy Waters, was an American blues singer-songwriter and musician who was an important figure in the post-war blues scene, and is often cited as the "father of modern Chicago blues". His style of playing has been described as "raining down Delta beatitude".
Hometown – Issaquena County, Mississippi, USA
Career Highlight – Waters was a member of the inaugural class (1980) of the Blues Hall of Fame.
Best known songs – Hoochie Coochie Man, Trouble No More, Forty Days and Forty Nights
DID YOU KNOW…
In 1943 racial oppression in the south was a way of life. Rumor has it that Muddy fled Mississippi after a rift with the plantation overseer. He made his way to Chicago and it was there that he made his name. During the day he worked odd jobs and at night he played the black music circuit. The fired-up crowds at these gigs were so loud that Muddy's acoustic guitar was drowned out. In 1945 he was introduced to the electric guitar and the world was introduced to Muddy Waters.
GUITAR MODEL
Muddy has been known as one of the most legendary players of our S-200 T-Bird, as he was seen playing different versions of it throughout his career. At times, the entire 5-piece "Muddy Waters Blues Band" would all play different Guild instruments.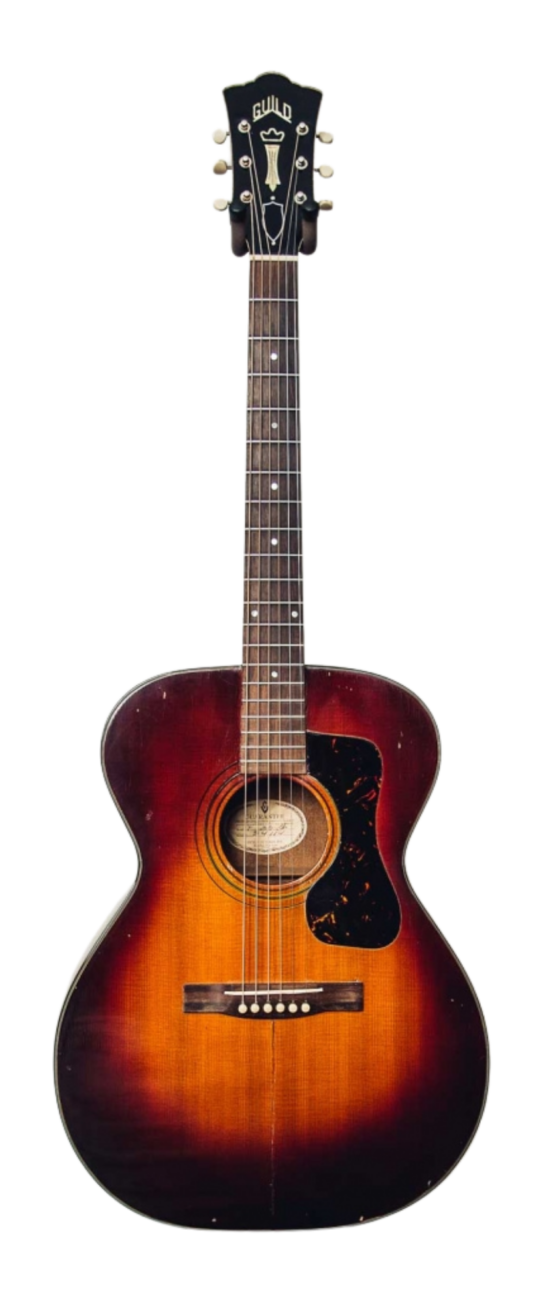 MISSISSIPPI'S GUITAR
F-30
VIEW A NEW VERSION OF THIS GUITAR
MISSISSIPPI JOHN HURT
John Smith Hurt, (July 3, 1893, U.S.—November 2, 1966), better known as Mississippi John Hurt, was an American country-blues singer and guitarist who first recorded in the late 1920s but whose greatest fame and influence came when he was rediscovered in the early 1960s at the height of the American folk music revival.
Hometown – Teoc, Carroll County, Mississippi, USA
Career Highlight – At the age of 71, Hurt began an extraordinary and unparalleled comeback after a resurgence of his music became popular 35+ years after release.
Best known songs – Ain't Nobody's Dirty Business, Avalon Blues, Candy Man
DID YOU KNOW…
Hurt was a pioneer blues and folk guitarist. Self-taught, Hurt rarely left his home at Avalon, where he worked as a farmer. Although he recorded several songs in 1928, including "Avalon Blues" and "Frankie," he lived in relative obscurity before he was "rediscovered" in the blues revival of the 1960s.
GUITAR MODEL
After Mississippi John Hurt was rediscovered and started playing again he didn't own a guitar. In 1964, the Newport Foundation gave John Hurt funding to purchase a guitar he could call his own. He ended up buying a Guild F-30. He was often seen with that F-30, hich was the perfect instrument for his particular finger-style playing.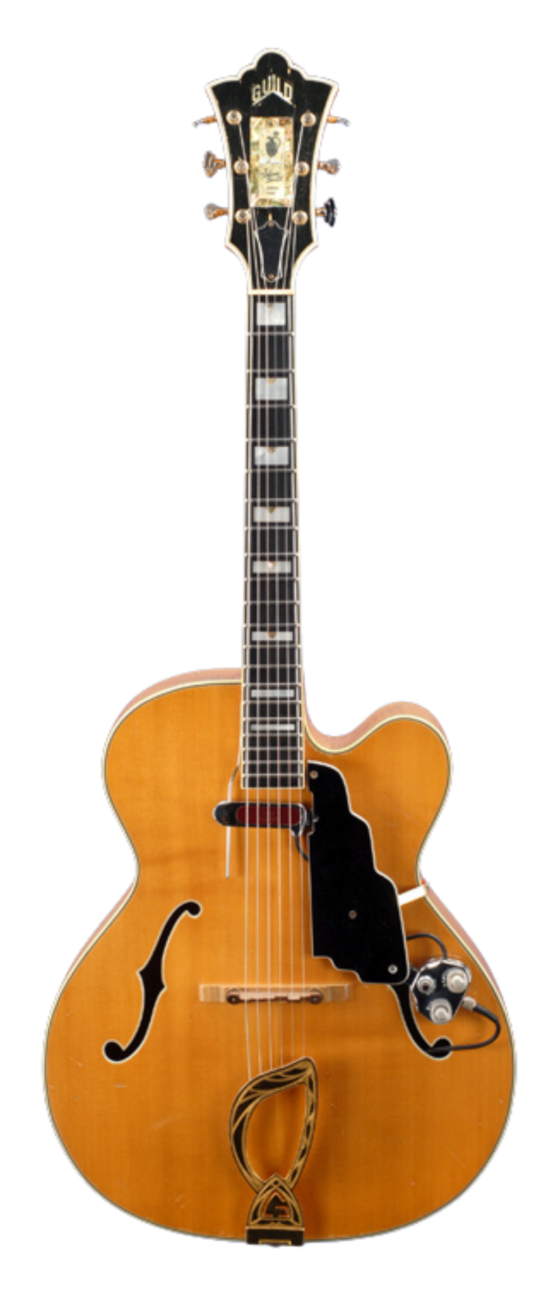 JOHNNY'S GUITAR
JOHNNY SMITH SIGNATURE AWARD MODEL
VIEW A NEW VERSION OF THIS GUITAR
JOHNNY SMITH
Johnny Henry Smith II (June 25, 1922 – June 11, 2013) was an American cool jazz and mainstream jazz guitarist. During the 1950s, he worked for the network broadcasters in New York while also playing regularly at clubs such as Birdland opposite Count Basie, Dizzy Gillespie, Miles Davis, George Shearing and many other legends of jazz. He was the most revered guitarist on the New York jazz scene during a golden era.
Hometown – Birmingham, Alabama, USA
Career Highlight – In 1998, Johnny Smith was awarded the prestigious James Smithson Bicentennial Medal in recognition of his influence as a guitarist upon popular culture.
Best known songs – Sunny, Walk Don't Run, Misty
DID YOU KNOW…
Like most of the great jazz guitarists, Johnny Smith started out as an excellent musician first. When he arrived in New York in the late 1940's he moved as easily on to 52nd as he did into playing with the philharmonic. He took up a staff position with NBC and it was while there that he recorded Moonlight in Vermont with Stan Getz. This recording established Johnny Smith as a major talent and in a flurry of recording activity he produced some of the most important recordings in jazz guitar history.
GUITAR MODEL
In 1955, after personal discussions with Alfred Dronge, Smith designed a guitar and sent the drawings and specifications to Guild, who then manufactured the resulting guitar as the Guild Johnny Smith Award. The design was a full-bodied archtop guitar with a top carved from solid spruce and a back and sides made of solid maple. Johnny said himself that, "This Instrument is a Guitarist's Dream!"