the legends who played guild
The 1970s created a perfect musical bridge from the rebelliousness of the 1960s and the happy songs that are characteristic of the 1980s. Following the counterculture of the 60s, the and the 70s created a trend of relaxing music as well as dance music. Disco was the definition of the 1970s. Although its popularity was relatively short-lived, the genre hosted a great deal of songs and artists that people are still dancing to today and had a large influence on the fashions of the decade, too. The Bee Gees helped to define the disco genre with their hit "Jive Talkin'" and their blockbuster "Stayin' Alive", while rock music continued to evolve with the likes of iconic bands such as Queen, Pink Floyd, Supertramp and more.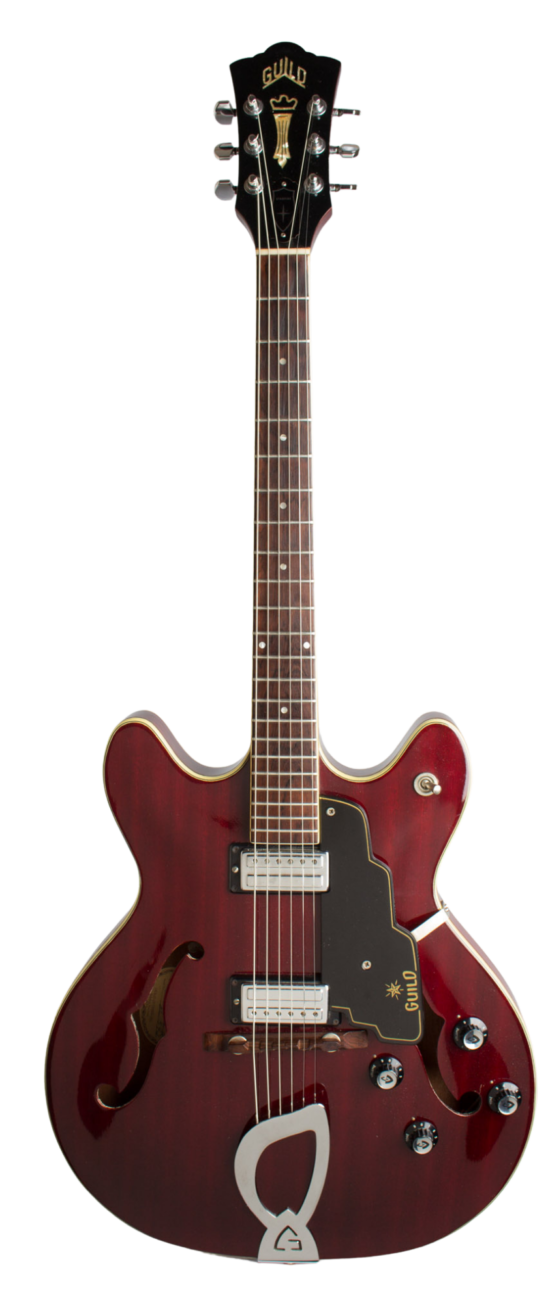 BUDDY'S GUITAR
STARFIRE IV
VIEW A NEW VERSION OF THIS GUITAR
BUDDY GUY
Buddy Guy, original name George Guy, (born July 30, 1936, Lettsworth, Louisiana, U.S.), American Blues musician noted for his slashing electric guitar riffs and passionate vocals. He was a prolific performer and recording artist from the late 1950s until well into the 21st century, and he enjoyed a resurgence of popularity beginning in the 1990s.
Hometown – Lettsworth, Louisiana, USA
Career Highlight – Eric Clapton once described Buddy Guy as "the best guitar player alive". He has notably influenced guitarists including Clapton, Jimmy Hendrix, Jimmy Page, Keith Richards, Stevie Ray Vaughan, Jeff Beck, Gary Clark Jr. and John Mayer.
Best known songs – First Time I Met the Blues, Stone Crazy, Blues Don't Care
DID YOU KNOW…
In 1989, Guy opened his own nightclub in Chicago, Buddy Guy's Legends, where he frequently performed and played host to other top blues acts.
GUITAR MODEL
After his beloved Strat was stolen in the 70s, Buddy got his first endorsement from Guild Guitars. For the first couple of years, Buddy was using a red Starfire IV exclusively, but later on he started playing more colors and variations. He was seen playin them in the late 70s, and all throughout the 80s. Buddy also played a Guild Nightingale during his endorsement deal, particularly around the recording of the "Stone Crazy" album in 1981.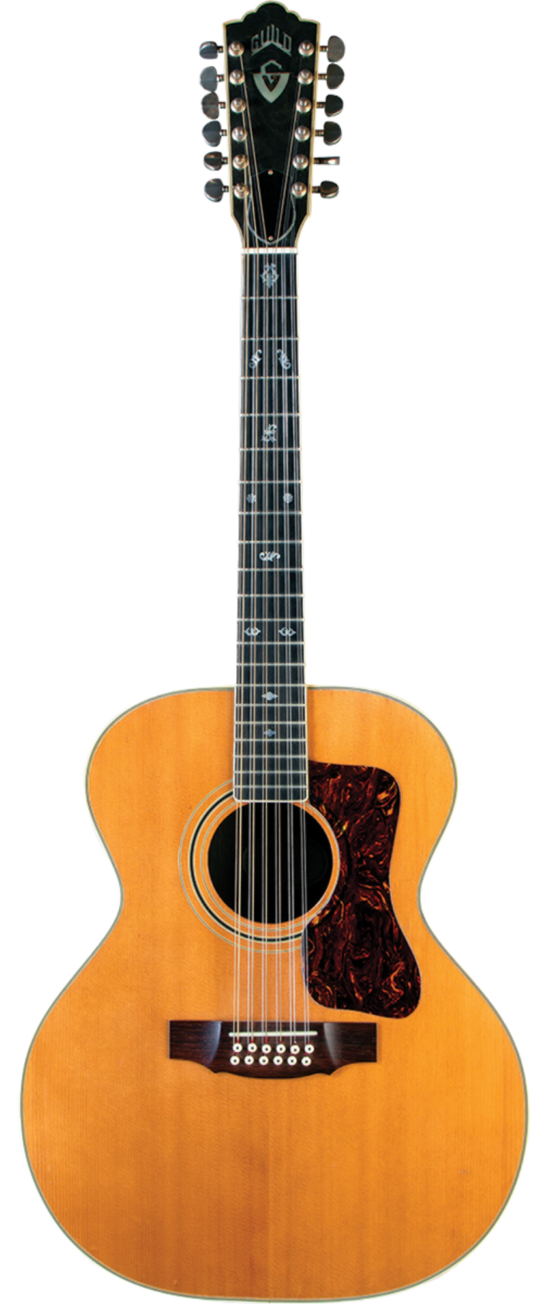 JOHN'S GUITAR
F-512
VIEW A NEW VERSION OF THIS GUITAR
JOHN DENVER
Henry John Deutschendorf Jr. (December 31, 1943 – October 12, 1997), known professionally as John Denver, was an American singer-songwriter, record producer, actor, activist, and humanitarian, whose greatest commercial success was as a solo singer. After traveling and living in numerous locations while growing up in his military family, Denver began his music career with folk music groups during the late 1960s. Starting in the 1970s, he was one of the most popular acoustic artists of the decade and one of its best-selling artists.
Hometown – Roswell, New Mexico, USA
Career Highlight – Denver released a total of 30 studio albums throughout his career
Best known songs – Take Me Home Country Roads, Rocky Mountain High, Sunshine On My Shoulders
DID YOU KNOW…
Denver recorded and released approximately 300 songs, about 200 of which he composed. He had 33 albums and singles that were certified Gold and Platinum in the U.S. by the RIAA, with estimated sales of more than 33 million units.
An avid pilot, Denver died at age 53 in a single-fatality crash while piloting a recently purchased light plane.
GUITAR MODEL
John Denver was a multi-talented singer, performer, and guitar player, often noted for his use of 12-string guitar in his music. His relationship with the 12-string was centered around Guild, where he was seen playing many different variations of the F-212, F-512 and F-612 throughout the years. A custom made version of the 612 was made for him in the late '70s, and although it had the same basic accouterments found on the standard model, the inlay work on it was much more elaborate. The neck had a vine inlay that ran from the 2nd fret thought the 19th fret, and the bridge saddle was also inlaid with a similar vine pattern. The hardware on it (tuning keys and the strap buttons) was all gold-plated, and the stylized "G-shield" headstock inlay was made of pearl.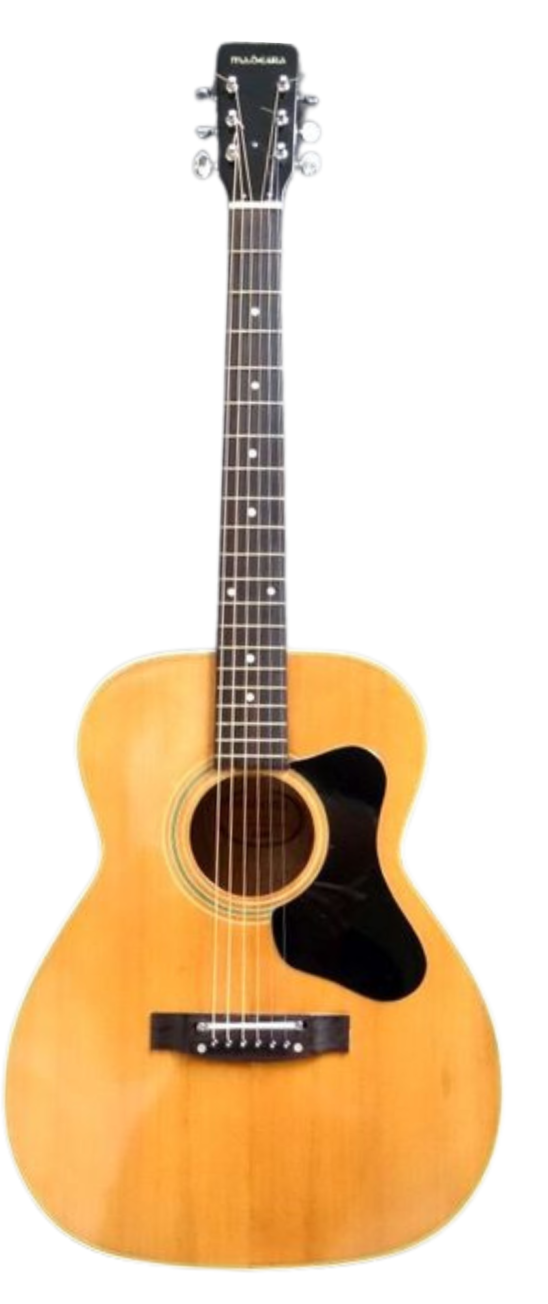 BOB'S GUITAR
GUILD MADEIRA A-20
VIEW A NEW VERSION OF THIS GUITAR
BOB MARLEY
Robert Nesta "Bob" Marley, (6 February 1945 – 11 May 1981) was a Jamaican singer, songwriter, and musician. Considered one of the pioneers of reggae his musical career was marked by fusing elements of reggae, ska, and rocksteady, as well as his distinctive vocal and songwriting style. Marley's contributions to music increased the visibility of Jamaican music worldwide, and made him a global figure in popular culture for over a decade.
Hometown – Nine mile, Saint Ann Parish, Colony of Jamaica
Career Highlight – Marley ranks as one of the best-selling music artists of all time, with estimated sales of more than 75 million records worldwide.
Best known songs – Could You Be Loved, Three Little Birds, Is This Love
DID YOU KNOW…
The guitar Bob Marley played at home for most of his songwriting through the 1970s was a Guild. The above photo was taken of Marley playing his A-20 Guild Madeira at his home on 56 Hope Rd in Kingston, Jamaica. He is photographed here by David Burnett for Time Magazine in March of 1976.
GUITAR MODEL
Madeira was Guild's first ever import brand back in the 1970's. Just like Epiphone is to Gibson now. They were first made in Japan with USA parts then were made in Korea with USA parts by Samick. The A-20 by Madeira was made in Korea and features a book matched spruce top, x-style bracing, a mahogany neck, back and sides, along with a rosewood fretboard and bridge.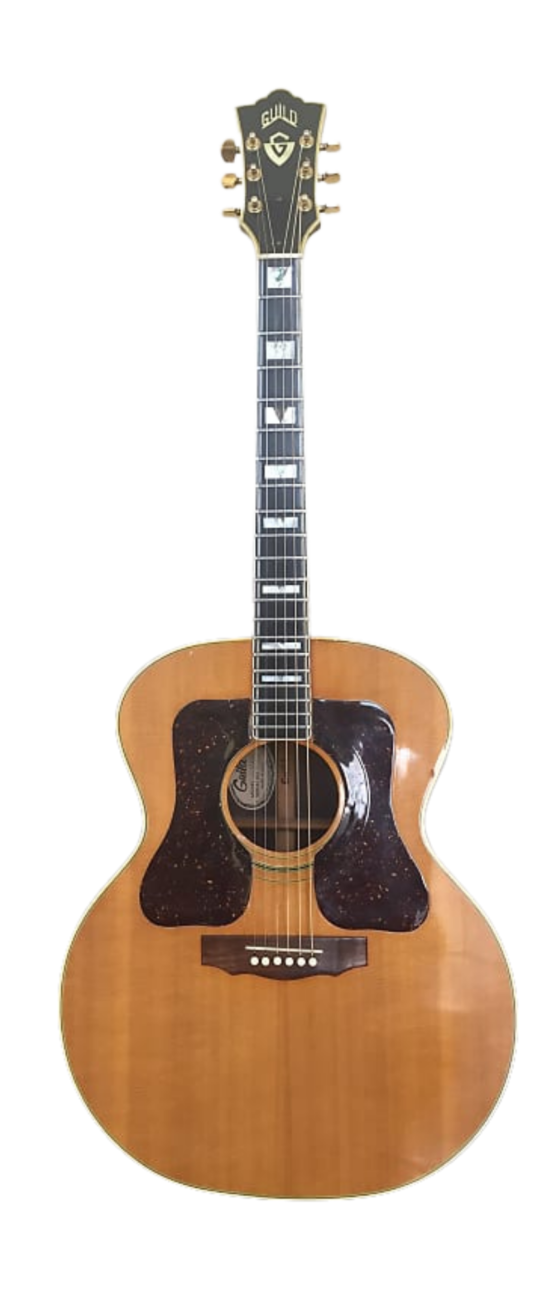 BONNIE'S GUITAR
F-50R
VIEW A NEW VERSION OF THIS GUITAR
BONNIE RAITT
Bonnie Lynn Raitt (born November 8, 1949) is an American blues singer, guitarist, songwriter, and activist. During the 1970s, Raitt released a series of roots-influenced albums that incorporated elements of blues, rock, folk and country. Raitt has received 10 Grammy Awards She is listed as number 50 in Rolling Stones's list of the "100 Greatest Singers of All Time" and number 89 on the magazine's list of the "100 Greatest Guitarists of All Time".
Hometown – Burbank, California, USA
Career Highlight – Raitt has won 10 Grammy awards, most notably Album of the Year for "Nick of Time" in 1989, almost 30 years into her career.
Best known songs – I Can't Make You Love Me, Something To Talk About
DID YOU KNOW…
From the start of her career, Raitt played alongside classic blues performers such as Sippie Wallace and Arthur ("Big Boy") Crudup as well as folk rock contemporaries such as Jackson Browne and Little Feat. Her first three albums largely comprised traditional blues material and introduced Raitt's supple phrasing, feminist stance, and keen abilities as a slide guitarist.
GUITAR MODEL
Raitt plays both a Guild F-50R, which is the traditional braced Rosewood jumbo 6-string, and the F-50, which is the unbraced arch back Maple jumbo 6-string. She often uses 3 on stage, one with standard tuning, one with open 'C' tuning and one with high action for slide guitar. Like other Guild players and legends, Raitt has also been known for using a double pick guard on her jumbo guitars.
BRIAN'S GUITAR
BM-01 SIGNATURE
BRIAN MAY
Brian Harold May (born 19 July 1947) is an English musician, singer, songwriter, record producer, author, and astrophysicist. May was a co-founder of the rock band Queen with lead singer Freddie Mercury and drummer Roger Taylor. Within five years of their formation in 1970 and the recruitment of bass player John Deacon completing the lineup, Queen had become one of the biggest rock bands in the world with the success of the album A Night at the Opera and its single "Bohemian Rhapsody".
Hometown – Hampton, London, England
Career Highlight – As part of Queen, May has sold 90.23 million studio albums over 15 releases, a solid average of 6 million per effort.
Best known songs – Bohemian Rhapsody, We Will Rock You
DID YOU KNOW…
May earned a PhD in astrophysics from Imperial College London in 2007, and is a co-founder of the awareness campaign Asteroid Day.
GUITAR MODEL
The Guild Brian May Signature model was the second faithful reproduction of Brian May's Red Special. Made in 1994, only as a limited edition of 1000 instruments. This limited edition run had Brian May's signature as a decal on the back of the headstock. Half were made for the US market and the rest were exported.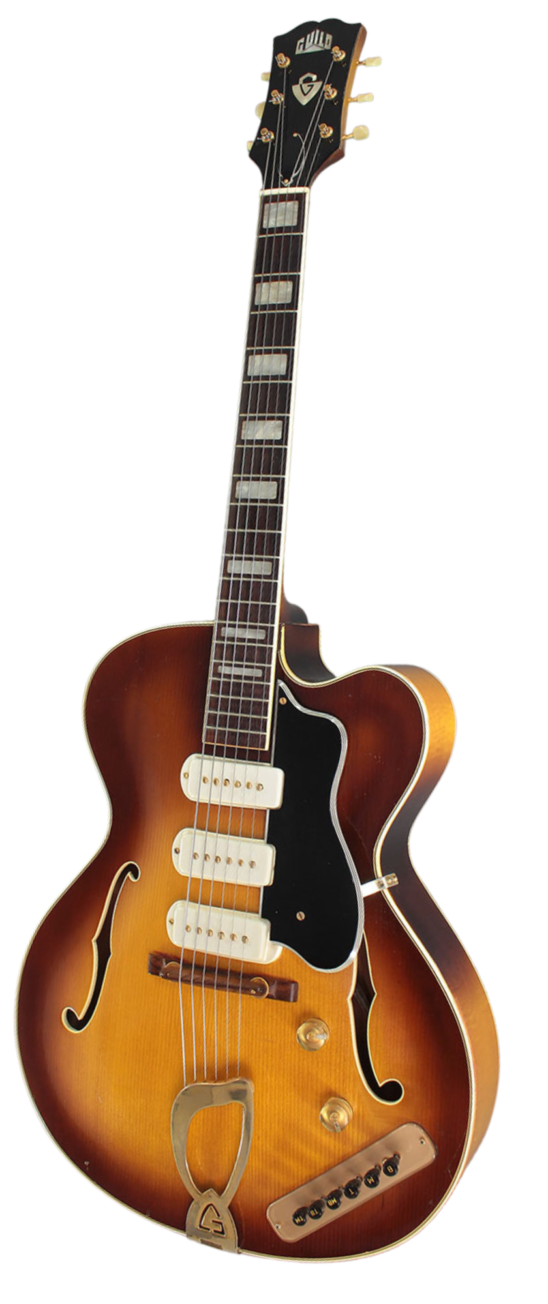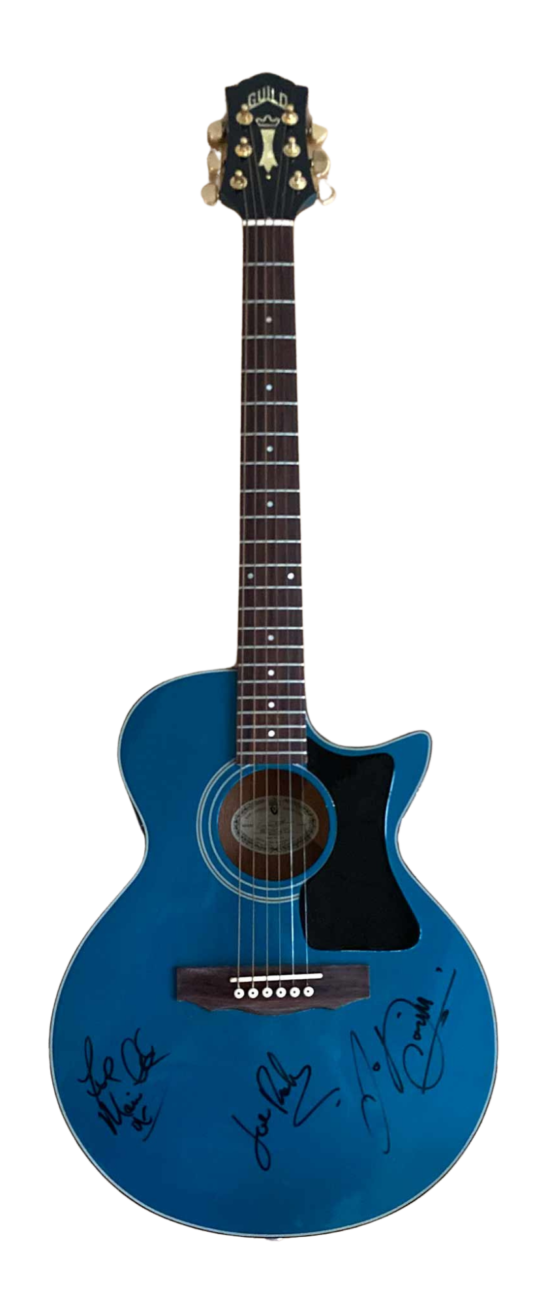 BARRY'S GUITARS
X-350 STRATFORD & S4BG BARRY GIBB SIGNATURE
VIEW A NEW VERSION OF THIS GUITAR
BARRY GIBB
Sir Barry Alan Crompton Gibb (born 1 September 1946) is a British-American musician, singer-songwriter and record producer who rose to worldwide fame as a co-founder of the group the Bee Gees, one of the most commercially successful groups in the history of popular music. With his younger brothers, twins Robin and Maurice Gibb, he formed a songwriting partnership beginning in 1955.
Hometown – Douglas, Isle of Man
Career Highlight – In 1994, Gibb was inducted into the Songwriters Hall of Fame and in 1997, as a member of the Bee Gees, he was inducted into the Rock and Roll Hall of Fame.
Best known songs – Stayin' Alive, How Deep Is Your Love
DID YOU KNOW…
As a songwriter, Gibb shares with John Lennon and Paul McCartney the record for most consecutive Billboard Hot 100 number ones, each having six. In total, he has written or co-written sixteen Billboard Hot 100 number ones. Guinness World Records lists Gibb as the second most successful songwriter in history, behind McCartney.
GUITAR MODEL
Gibb was seen playing many different hollowbody electrics by Guild early in his career with the Bee Gees, from the X-375 to the X-350 Stratford.
In 1997, Guild came out with a very limited edition Barry Gibb model derived from the S-4CE. The guitar was called the S4BG and was made in Guild's factory in Westerly, Rhode Island. There were only 400 S4BG models made, with the vast majority of them in natural finish, and VERY few in the striking blue finish.