the legends who played guild
The 1960s was the decade that saw the evolution of rock music. In the early-60s, rock and roll in its purest form was gradually overtaken by pop rock, beat, psychedelic rock, blues rock, and folk rock. This was all thanks to trailblazers such as Jimi Hendrix, The Grateful Dead, Jefferson Airplane, Elvis Presley, and many more. It was a decade of experimental music, which had become a vehicle for social change. The protest songs and psychedelia of the 1960s were the soundtracks to a sexual revolution and anti-war marches. And perhaps one of the largest musical events of all time, Woodstock, took place and became a pivotal moment in popular music history as well as a defining event for the counterculture generation.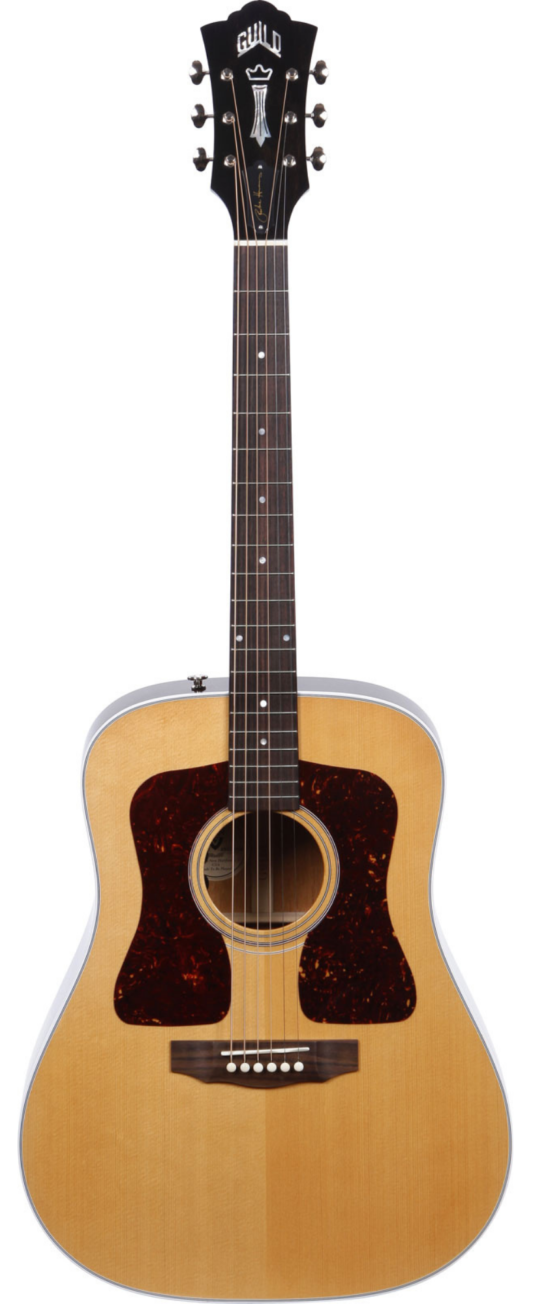 RICHIE'S GUITAR
D-40
VIEW A NEW VERSION OF THIS GUITAR
RICHIE HAVENS
Richard Pierce Havens (January 21, 1941 – April 22, 2013) was an American singer-songwriter and guitarist. His music encompassed elements of folk, soul, and rhythm and blues. He had an intense and rhythmic guitar style (often in open tunings), and played soulful covers of pop and folk songs.
Hometown – Brooklyn, New York City, USA
Career Highlight – Opened Woodstock in 1969
Best known songs – Freedom, Here Comes The Sun, All Along The Watchtower
DID YOU KNOW…
The folks that put on the Woodstock had no idea this would draw so many people and were totally unprepared. Havens was the first act to perform. His performance was extended to 3 hours that day, since many of the other per-formers that were unable to reach the site due to the teaming crowd. Much of what he sang that day was improvised on the spot.
Throughout his career Richie Havens played many Guild guitars. Perhaps he may have been influenced by the fact they were made in New York City. His favorite model was the  D-40. Because of his heavy-handed right hand attack, Havens Guilds were usually badly scarred on the top.
GUITAR MODEL
Haven's career-defining performance at Woodstock put both himself and the Guild brand into music history books forever. It became one of the most notable acoustic folk-rock performances of the modern era. For this particular performance, he added an upper pick guard to the iconic dreadnought, and tuned it to an open-D.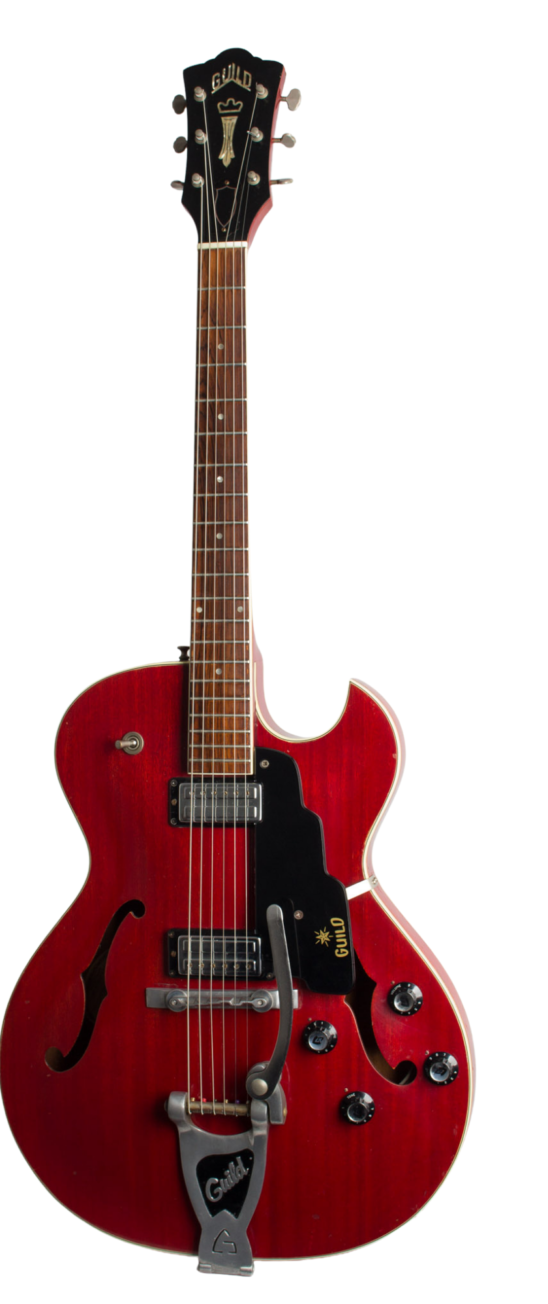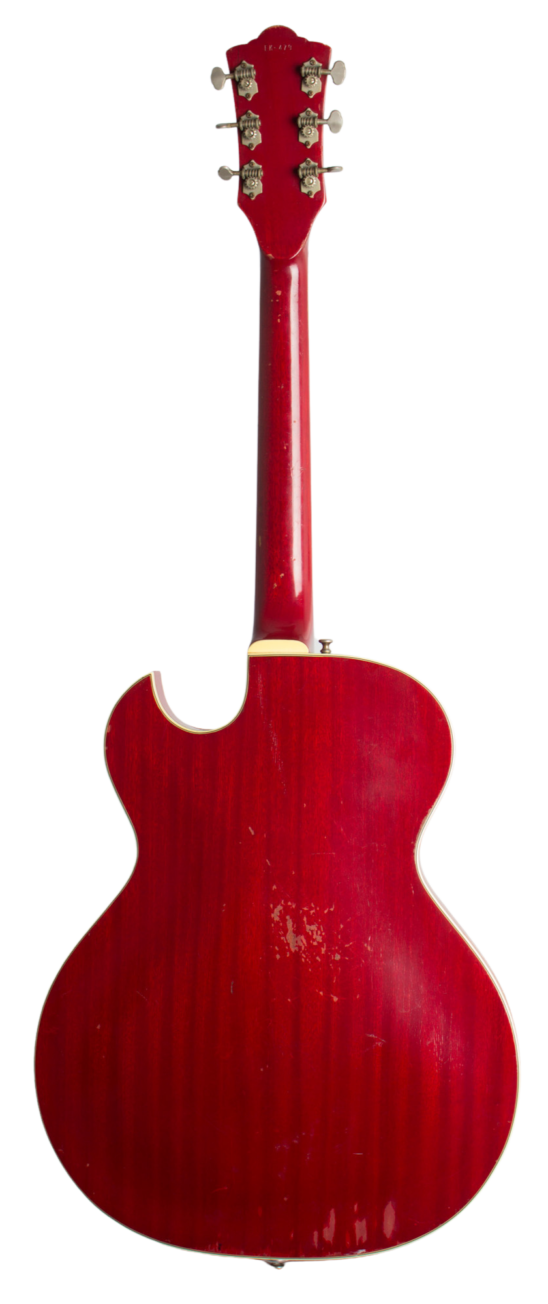 JERRY'S GUITAR
Starfire III
VIEW A NEW VERSION OF THIS GUITAR
JERRY GARCIA
Jerome John Garcia (August 1, 1942 – August 9, 1995) was an American singer-songwriter and guitarist, best known for being a principal songwriter, the lead guitarist and a vocalist with the rock band the Grateful Dead, of which he was a founding member and which came to prominence during the counterculture of the 1960s. Although he disavowed the role, Garcia was viewed by many as the leader or "spokesman" of the group.
Hometown – San Francisco, California, USA
Career Highlight – As one of its founders, Garcia performed with the Grateful Dead for their entire 30-year career.
Best known songs – Casey Jones, Truckin, Friend of the Devil
DID YOU KNOW…
Garcia was also renowned for his musical and technical ability, particularly his ability to play a variety of instruments and sustain long improvisations with the Grateful Dead. He was well known for his distinctive guitar playing, and was ranked 13th in Rolling Stone's "100 Greatest Guitarists of All Time" cover story in 2003.
GUITAR MODEL
Garcia's iconic Red '62 Guild Starfire III was used to record the Grateful Dead's eponymous debut album. But even before then, the Strafire was Jerry's main guitar in the pre-Grateful Dead band called "The Warlocks". Our 1966 catalog describes the Starfire III as a favorite for many years because it was specifically designed for the young artist with a flair for showmanship. it was discontinued in 1973, but revived again in '97 and is still a Guild staple today.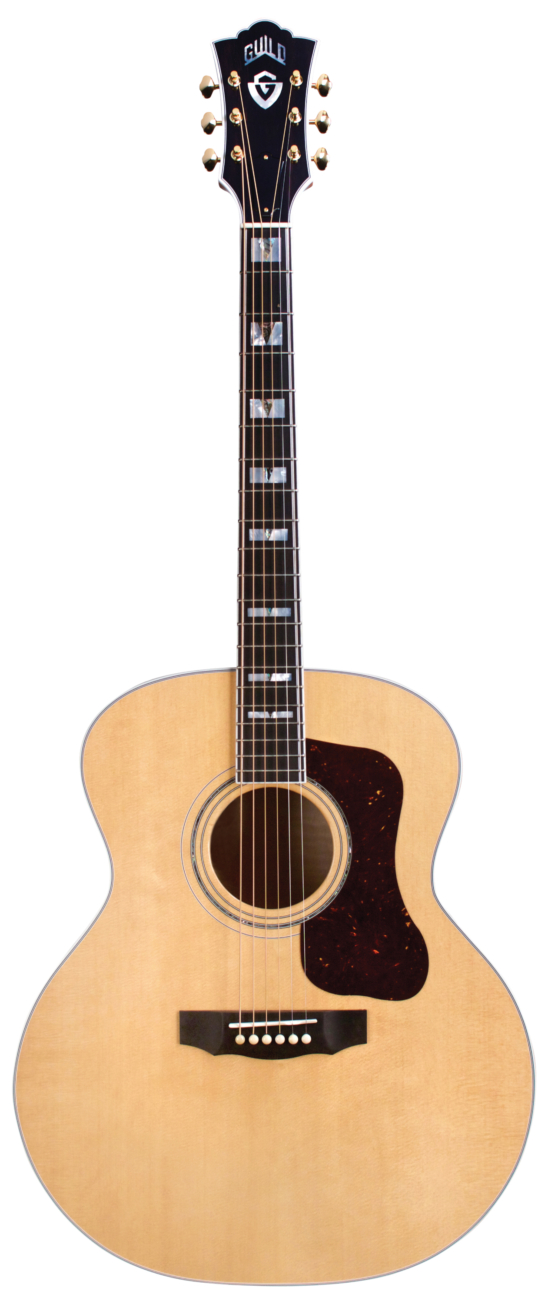 ERIC'S GUITAR
F-50
VIEW A NEW VERSION OF THIS GUITAR
ERIC CLAPTON
Eric Patrick Clapton, (born 30 March 1945) is an English rock and blues guitarist, singer, and songwriter. He is the only three-time inductee to the Rock and Roll Hall of Fame: once as a solo artist and separately as a member of the Yardbirds and of Cream. Clapton has been referred to as one of the most important and influential guitarists of all time. Clapton ranked second in Rolling Stone's list of the "100 Greatest Guitarists of All Time" and number five in Time magazine's list of "The 10 Best Electric Guitar Players" in 2009.
Hometown – Ripley, Surrey, England
Career Highlight – Clapton has received 18 Grammy Awards as well as the Brit Award for Outstanding Contribution to Music.
Best known songs – Layla, Tears In Heaven, Change The World
DID YOU KNOW…
In his solo career, Clapton has sold more than 100 million records worldwide, making him one of the best-selling musicians of all time.
GUITAR MODEL
Introduced in 1954, our F-50 was the premier acoustic flat-top and was popularized by exceptional players, such as Clapton, who graced the cover of our 1968 Guild catalog. Though Clapton famously played this F-50, he was seen with many other acoustic Guild models throughout the '70s and '80s, which were given to him through an official endorsement.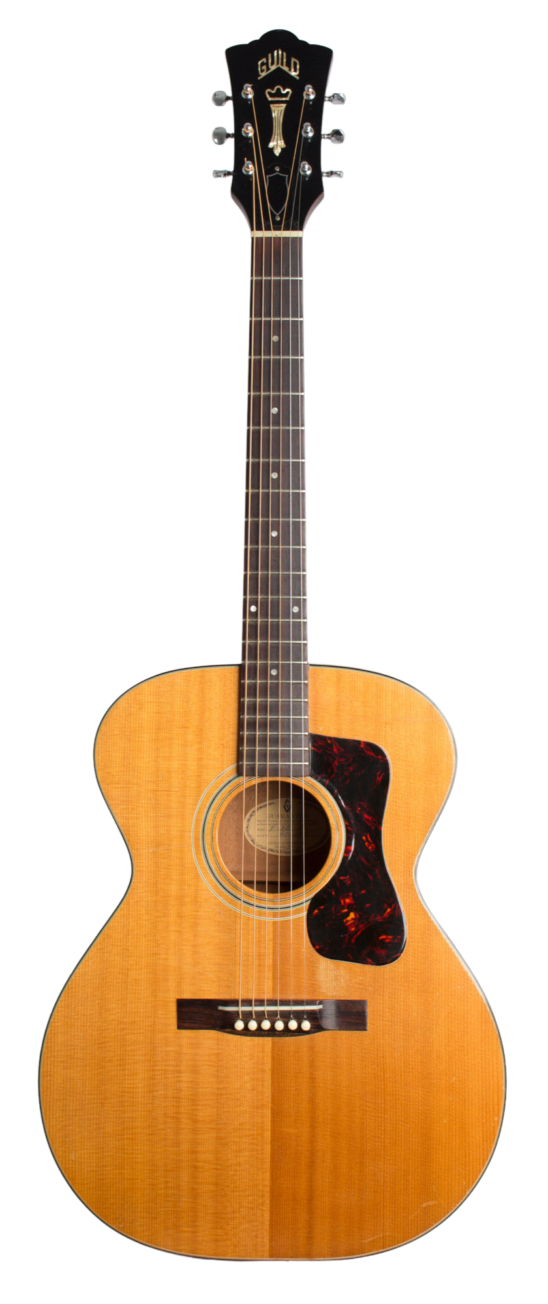 PAUL'S GUITAR
F-30 Special
VIEW A NEW VERSION OF THIS GUITAR
Paul Simon
Paul Frederic Simon (born October 13, 1941) is an American musician, singer, songwriter and actor. Simon's musical career has spanned over six decades. He is widely regarded as one of the best songwriters in popular music history.
Simon formed the duo Simon and Garfunkel with his schoolfriend Art Garfunkel in 1956. They released five studio albums and became one of the most acclaimed groups of the 1960s.
Hometown – Newark, New Jersey, USA
Career Highlight – In 2006 he was selected as one of the "100 People Who Shaped the World" by Time.
Best known songs – Bridge Over Troubled Water, Mrs. Robinson, Graceland
DID YOU KNOW…
Simon has earned sixteen Grammy Awards for his solo and collaborative work, including three for Album of the Year (Bridge Over Troubled Water, Still Crazy After All These Years, and Graceland), and a Lifetime Achievement Award. He is a two-time inductee into the Rock and Roll Hall of Fame: first in 1990 as a member of Simon & Garfunkel and again in 2001 for his solo career. In 2011, Rolling Stone named Simon one of the 100 greatest guitarists, and in 2015 he was ranked eighth in their list of the 100 greatest songwriters of all time.
GUITAR MODEL
During the '60s Simon switched between two Guild F-30 Special guitars, which were special ordered F-30s with rosewood back & sides and an ebony fingerboard, instead of the usual mahogany back & sides with a rosewood fingerboard. Though they were two of the same model, each was known to have a unique tone that would lend to whatever sound Paul tried to convey solo, or with Simon and Garfunkel. He was seen playing this model throughout the entire decade, and even in to the 1970's.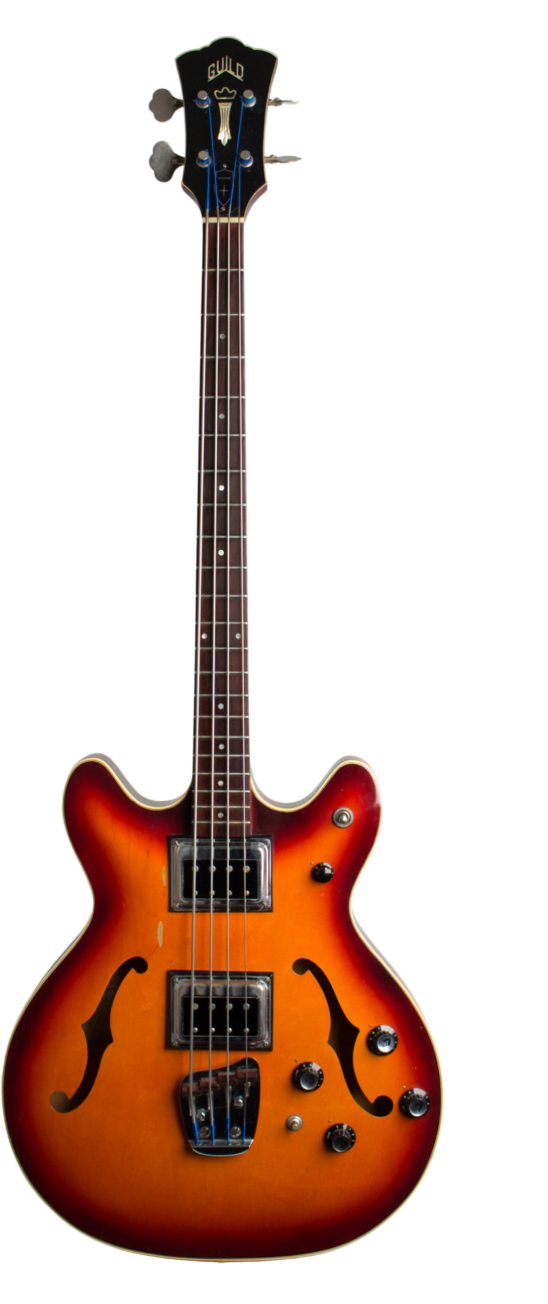 JACK'S BASS GUITAR
STARFIRE II BASS
VIEW A NEW VERSION OF THIS GUITAR
JACK CASADY
John William "Jack" Casady (born April 13, 1944) is an American bass guitarist, best known as a member of Jefferson Airplane and Hot Tuna. Jefferson Airplane became the first successful exponent of the San Francisco sound. Casady, along with the other members of Jefferson Airplane, was inducted into the Rock and Roll Hall of Fame in 1996.
Hometown – Washington D.C. USA
Career Highlight – Casady performed live on stage with Jimi Hendrix in 1968, he also played bass on Jimi's song "Voodoo Chile", from the Electric Ladyland album released in the same year.
Best known songs – White Rabbit, Somebody To Love, It's No Secret
DID YOU KNOW…
Casady stepped beyond the conventional rhythmic and chord-supporting role of rock & roll, in order to explore other possible melodic ideas offered by the rhythm and chord progressions. His impact is immediately evident on Airplane debut album Jefferson Airplane Takes Off(1966) on tracks such as "Let Me In" and "Run Around".
The live Airplane album "Bless Its Pointed Little Head" recorded in 1968, demonstrates Casady's unique walking line style to the fullest, as his Guild Starfire bass signal was delivered through a Versatone amplifier which gave his instrument a distinctive growling sound when played in the higher register.
GUITAR MODEL
Our 1960s Guild Starfire bass has a well-deserved reputation as one of that decade's most distinctive bass guitars, and Casady's 1967-70 double-pickup Starfire II is the most famous and sought-after version. It became a prominent part of the San Francisco sound in the late 60's with both Phil Lesh of the Grateful Dead and Casady of the Jefferson Airplane choosing the model for their psychedelic explorations of the low end. With a very slim and fast-playing neck, the Starfire is the perfect bass to "take off" with and remains as unique as when first designed.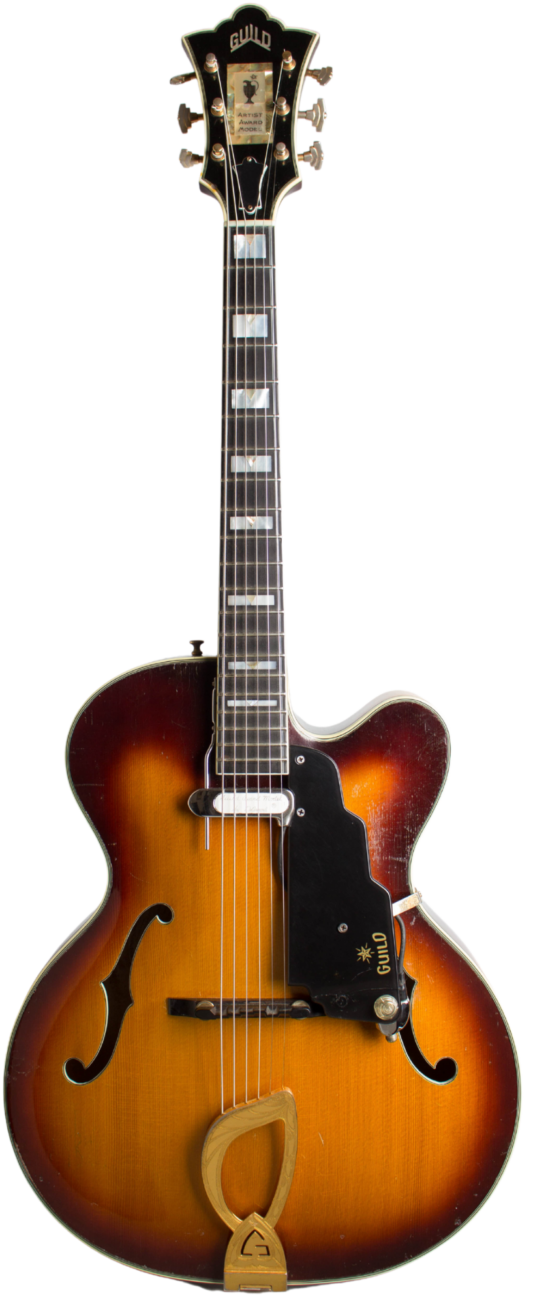 GEORGE'S GUITAR
X-500 ARTIST AWARD
VIEW A NEW VERSION OF THIS GUITAR
GEORGE BENSON
George Washington Benson (born March 22, 1943) is an American guitarist, singer, and songwriter. He began his professional career at the age of 19 as a jazz guitarist. A former child prodigy, Benson first came to prominence in the 1960s, playing soul jazz with Jack McDuff and others. He then launched a successful solo career, alternating between jazz, pop, R&B singing, and scat singing.
Hometown – Pittsburgh, Pennsylvania, USA
Career Highlight – Benson has won ten Grammy Awards
Best known songs – Give Me the Night, Turn Your Love Around
DID YOU KNOW…
In the late 1960s, Benson sat in on Miles Davis' Miles in the Sky sessions, and also put a personal spin on the tunes from the Beatles' Abbey Road.
GUITAR MODEL
Benson played many different Guild arch tops through his endorsement with Guild in the '60s. Notably, the X-500 Artist Award, the A-500 Blonde, and the Starfire VII. He also held what's thought to be a X-175 on the cover of his "The Other Side of Abbey" album.