the legends who played guild
Music in the 1980s was all about image and with the advent and popularity of MTV, the images that accompanied artists became more important than ever. When it came to music during the decade, nothing was understated, not the sound, nor the fashion. Sub-genres like heavy metal, hard rock, and glam metal became extremely popular with bands such as Guns n' Roses and Aerosmith. Hip Hop/Rap became a part of popular culture in the mid to late 1980s, where it originally had a difficult time breaking into the mainstream due to MTV's reluctance to show music videos of black artists. After much criticism, the network started to embrace black musicians like Run DMC and LL Cool J to usher in the era of commercialized rap music.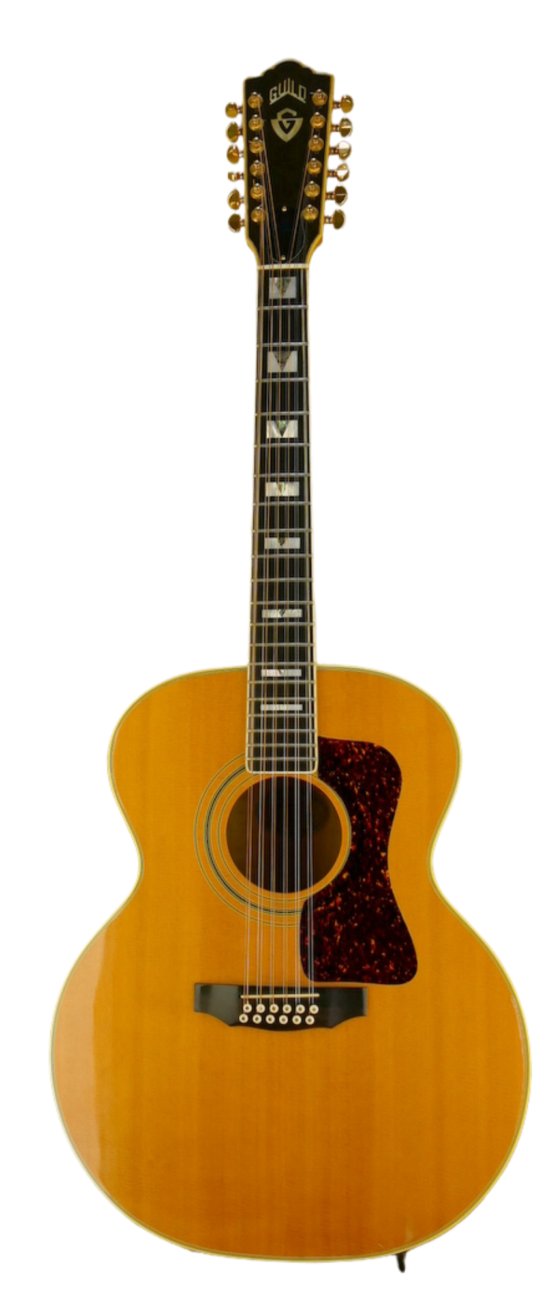 STEVIE'S GUITAR
JF-6512
VIEW A NEW VERSION OF THIS GUITAR
STEVIE RAY VAUGHAN
Stephen Ray Vaughan (October 3, 1954 – August 27, 1990) was an American musician, singer, songwriter, and record producer, best known as the guitarist and frontman of the blues rock band Double Trouble. Although his mainstream career only spanned seven years, he is considered to be one of the most iconic and influential musicians in the history of blues music, and one of the greatest guitarists of all time.
Hometown – Dallas, Texas, USA
Career Highlight – Delivered an iconic performance on MTV unplugged in 1990 with his Guild F-512.
Best known songs – Pride and Joy, Life By The Drop
DID YOU KNOW…
Stevie Ray Vaughan famously played on David Bowie's hit album Let's Dance. For many, it was their first introduction to the iconic guitarist, and it almost led to him touring with Bowie in support of the album.
GUITAR MODEL
Stevie used his JF-6512 on MTV Unplugged, where his assistant Timothy recalls that Stevie's hands were so strong that he accidentally cracked the neck.
This guitar is now at The Hard Rock Cafe in Dallas.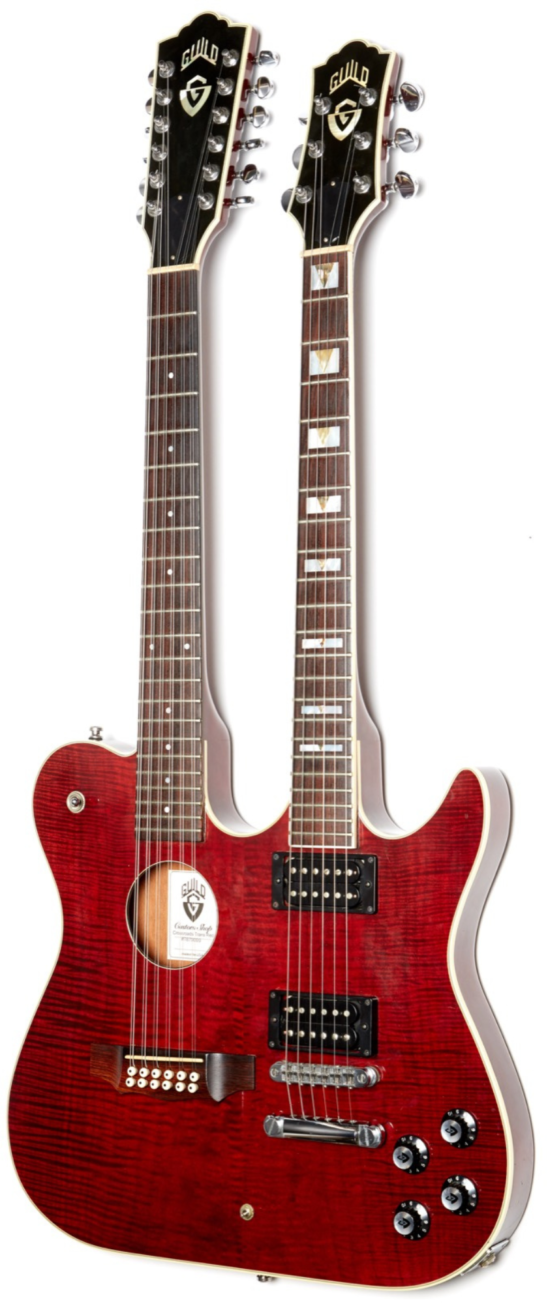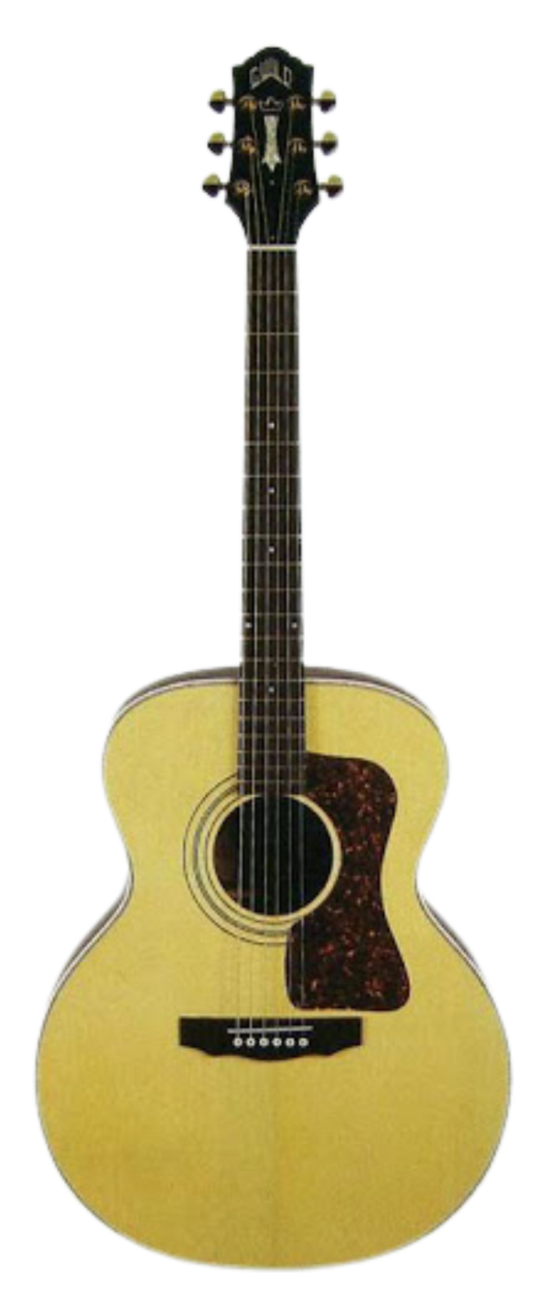 SLASH'S GUITAR
CROSSROADS & GF-30
VIEW A NEW VERSION OF THIS GUITAR
SLASH
Saul Hudson (born 23 July 1965), better known as Slash, is an English-American musician, songwriter, and record producer. He is best known as the lead guitarist of the American hard rock band Guns N' Roses, with whom he achieved worldwide success in the late 1980s and early 1990s. Slash has received critical acclaim and is considered one of the greatest guitarists in rock history.
Hometown – Hampstead, London, England
Career Highlight – Total Guitar placed his riff in "Sweet Child o' Mine" at number 1 on their list of "The 100 Greatest Riffs"
Best known songs –  Welcome to the Jungle, Sweet Child o' Mine, and Paradise City
DID YOU KNOW…
Before headlining sold-out arenas and stadiums, Guns N' Roses were known to play Los Angeles-area nightclubs‍—‌such as the Whisky a Go Go, The Roxy, and The Troubadour‍—‌throughout 1985 and 1986.
Then in July 1987, Guns N' Roses released its debut album, Appetite for Destruction, which as of today has sold over 28 million copies worldwide, 18 million of which were sold in the United States, making it the best-selling debut album of all time in the U.S.
GUITAR MODEL
Slash was known to play many Guild acoustic and electric guitars throughout his career with Guns N' Roses. Most notably used was his signature "Crossroads" model which featured a double neck. This guitar was made by Guild following Slash's own design, which he drew on a cocktail napkin. He basically wanted to avoid switching guitars during songs which required both acoustic and electric sound. The Crossroads allowed him exactly that, while the top part of the body is hollow, and therefore sounds like an acoustic, and the bottom part is solid, and holds two humbuckers for a hard rock sound. Slash had a number of these – but his most often used a black one.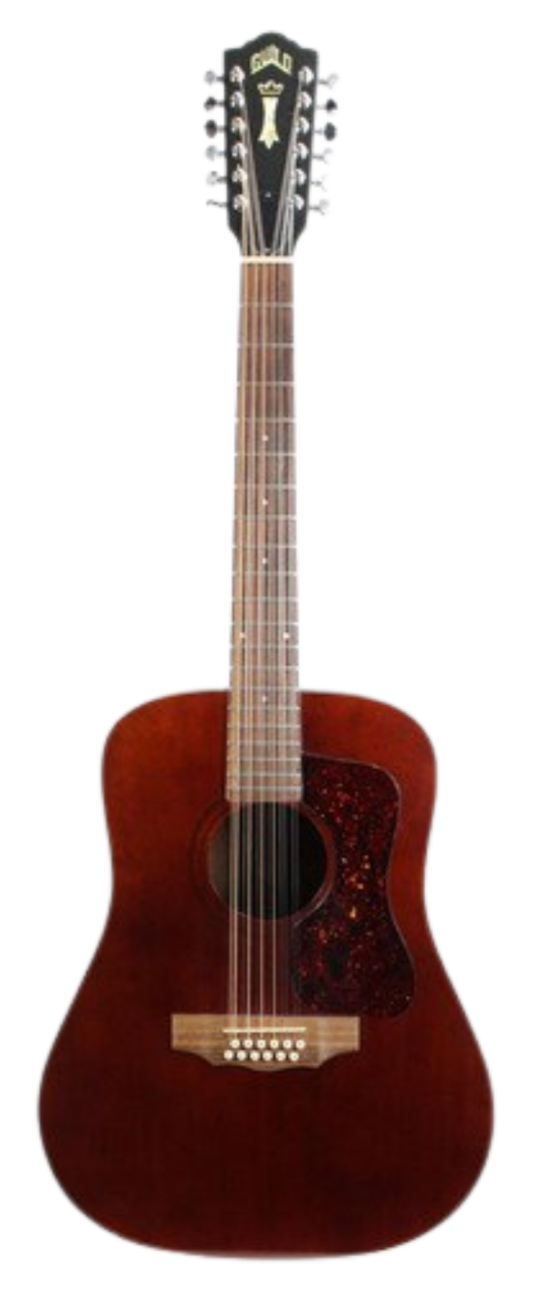 TOM'S GUITAR
D-212
VIEW A NEW VERSION OF THIS GUITAR
TOM PETTY
Thomas Earl Petty (October 20, 1950 – October 2, 2017) was an American singer, songwriter, musician, record producer, and actor. He was the lead vocalist and guitarist of Tom Petty and the Heartbreakers, formed in 1976. He previously led the band Mudcrutch, and was also a member of the late 1980s supergroup the Traveling Wilburys.
Hometown – Gainesville, Florida, USA
Career Highlight – Petty and the Heartbreakers were inducted into the Rock and Roll Hall of Fame in 2002.
Best known songs – Don't Do Me Like That, Learning To Fly, Free Fallin'
DID YOU KNOW…
In 1988, Petty joined George Harrison's group, the Traveling Wilburys, which also included Bob Dylan, Roy Orbison, and Jeff Lynne. The band's first song, "Handle with Care", was intended as a B-side of one of Harrison's singles, but was judged too good for that purpose and the group decided to record a full album, Traveling Wilburys Vol. 1.
GUITAR MODEL
Tom Petty played his Guild D-212 extensively in the "Concert for George" and various other television performances in the late '80s and early '90s. Fewer than 3000 D-212's were produced from 1981 to 1986, and his was one of very few in the striking Cherry Red finish. It was widely known for being the twelve-string version of the tremendously popular D-25.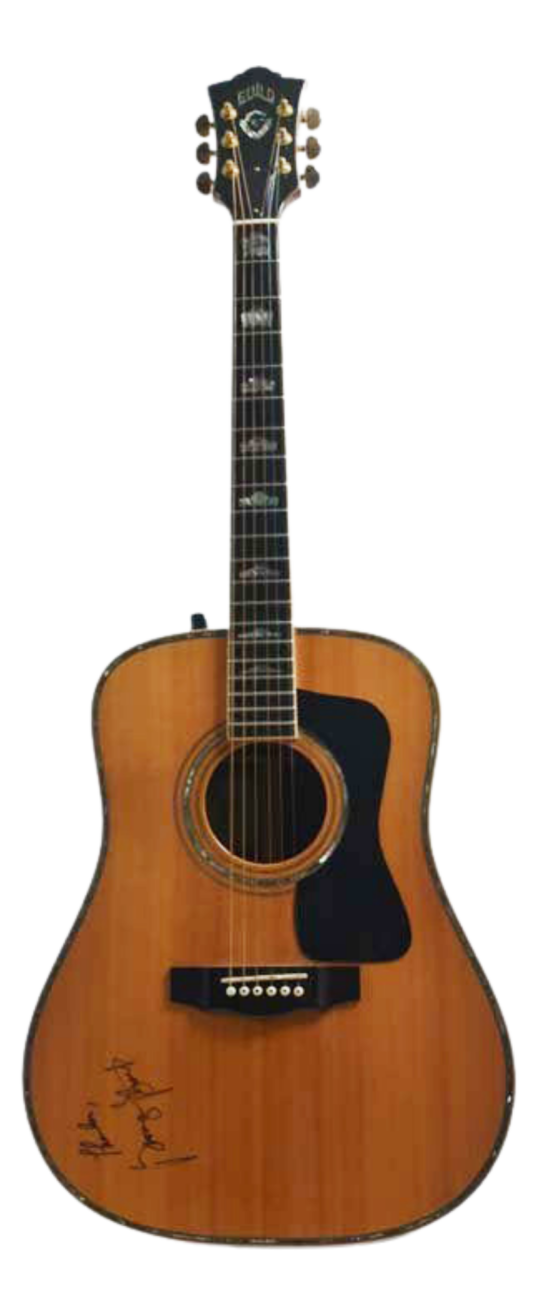 GEORGE'S GUITAR
D-100
VIEW A NEW VERSION OF THIS GUITAR
GEORGE STRAIT
George Harvey Strait Sr. (born May 18, 1952) is an American country music singer, songwriter, actor, and music producer. George Strait is known as the "King of Country"and is considered one of the most influential and popular recording artists of all time. He is known for his neotraditionalist country style, cowboy look, and being one of the first and most prominent country artists to bring country music back to its roots and away from the pop country era in the 1980s.
Hometown – Poteet, Texas, USA
Career Highlight – Strait has sold more than 100 million records worldwide, making him one of the best-selling music artists of all time.
Best known songs – I Cross My Heart, Give It Away, I Can Still Make Cheyenne
DID YOU KNOW…
Strait has been nominated for more CMA and ACM awards and has more wins in both categories than any other artist in history. He was named CMA Entertainer of the Year in 1989, 1990 and 2013, and ACM Entertainer of the Year in 1990 and 2014.
GUITAR MODEL
George was most notably seen playing his custom shop D-100, which one of about only 50 that were ever built. The 100 series featured maple and abalone bound rosewood bodies combined with a natural finished, hand-carved mahogany neck. The ebony fretboard had distinctive cloud inlays of abalone and an abalone-inlaid, multi-layered headstock.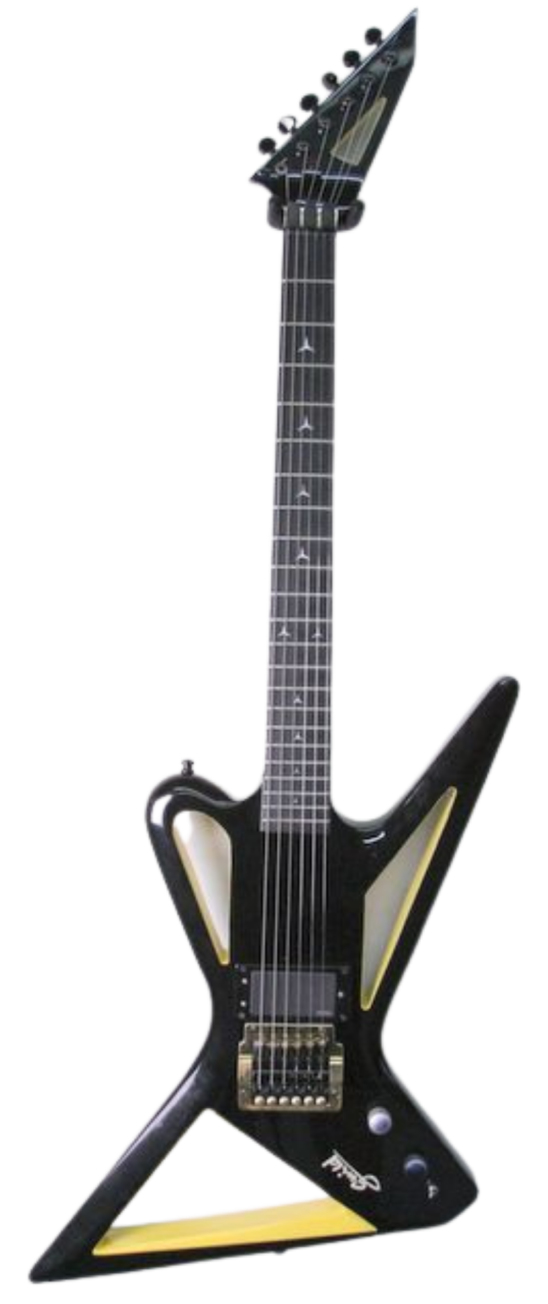 JOE'S GUITAR
X-100 BLADERUNNER
JOE PERRY
Joseph Anthony Pereira (born September 10, 1950), professionally known as Joe Perry, is an American musician and songwriter who is best known as the founding member, lead guitarist, backing and occasional lead vocalist of the American rock band Aerosmith.
Hometown – Lawrence, Massachusetts, USA
Career Highlight – In 2001, Aerosmith performed at the Super Bowl XXXV half-time show
Best known songs – Walk This Way, Dream On, I Don't Want To Miss A Thing
DID YOU KNOW…
Sometimes referred to as the "Greatest American Rock Band of All-Time" and the "Bad Boys from Boston," Aerosmith has sold over 150 million albums worldwide and 70 million in the U.S. alone, making them one of the biggest selling artists of all-time.
GUITAR MODEL
Perry's first-ever electric guitar from back in the late '60s was from Guild, but he was most notably remembered for playing the X-100 Bladerunner in the '80s. It was the black "out-on-a-limb" design of the Bladerunner that made Perry add it to his collection, and ultimately use it in the iconic "Walk This Way" music video with Run-DMC.