the legends who played guild
The 2000s were for the most part, nondescript, as pop music fragmented into smaller trends. Unlike many past decades, the 2000s did not see the creation or emergence of many styles, with the exception of a few indie-related genres such as emo and electronic. Despite the hip hop dominance, rock music was still popular, notably alternative rock and in some cases indie rock. Bands such as the Black Keys and the Lumineers gained prominence and notoriety, as many other artists began to go the more commercially electronic route.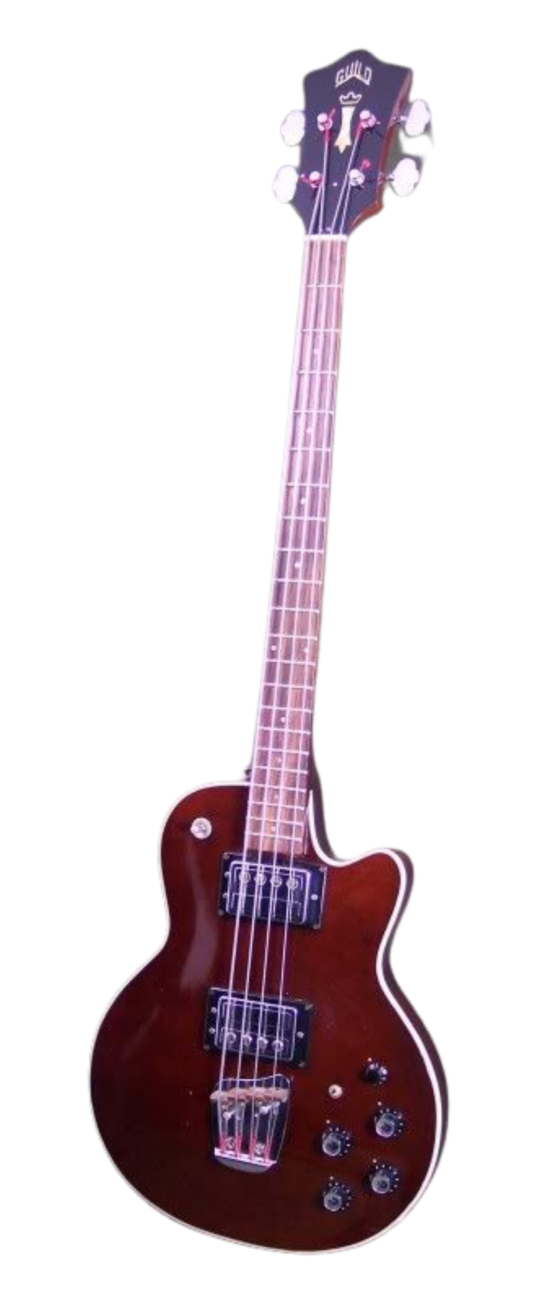 SHERYL'S BASS
M-85
SHERYL CROW
Sheryl Suzanne Crow (born February 11, 1962) is an American musician, singer, songwriter, and actress. Her music incorporates elements of pop, rock, country, jazz, and blues. She has released ten studio albums, four compilations, and two live albums, and has contributed to several film soundtracks.
Hometown – Kennett, Missouri, USA
Career Highlight – Crow has sold more than 50 million albums worldwide, and won nine Grammy Awards.
Best known songs – All I Wanna Do, If It Makes You Happy
DID YOU KNOW…
After graduating from the University of Missouri in 1984, Crow worked as an elementary music teacher in St. Louis before moving to Los Angeles to pursue an entertainment career. At various times, Crow has served as a backup singer for Michael Jackson, Sting, Rod Stewart and Don Henley.
GUITAR MODEL
Crow's M-85 Bass has been noted as one of Guild's oldest and most rare bass models. The companion to Guild's M-75 Aristocrat guitar, the M-85 Bass boasts authentic mid-'60s style with a compact semi-hollow body and big Guild BiSonic bass pickup that together create the sonic boom of an instrument twice its size.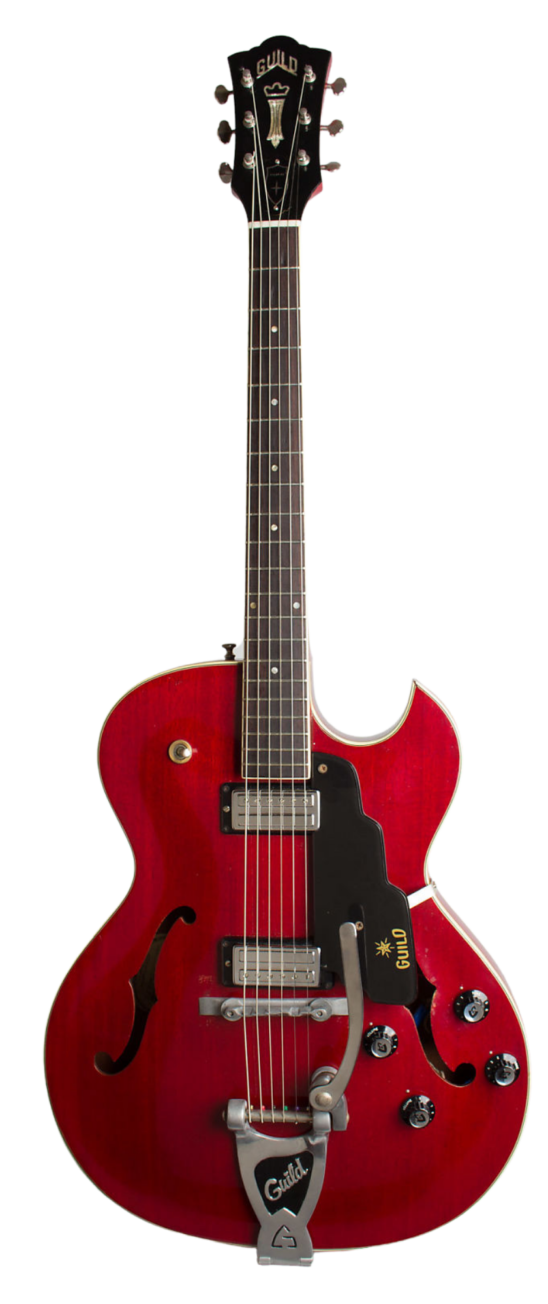 NORAH'S GUITAR
STARFIRE III
VIEW A NEW VERSION OF THIS GUITAR
NORAH JONES
Norah Jones (born March 30, 1979) is an American singer, songwriter, actress and pianist. She has won multiple awards and has sold more than 50 million records worldwide. Billboard named her the top jazz artist of the 2000s decade. She has won nine Grammy Awards and was ranked 60th on Billboard magazine's artists of the 2000s decade chart.
Hometown – Manhattan, New York, USA
Career Highlight – At the 45th Grammy Awards in 2003, Jones was nominated for eight Grammy Awards and won five: Best New Artist, Album of the Year, Best Pop Vocal Album, Record of the Year, and Best Female Pop Vocal Performance.
Best known songs – Come Away With Me, Don't Know Why
DID YOU KNOW…
After studying jazz piano at North Texas State University for two years, Jones dropped out and moved to Manhattan in 1999. There she sang and played in the underground music scene, meeting and collaborating with the musicians who would serve as her original backing band. In 2001 she signed a recording contract with Blue Note Records, and one year later released her critically acclaimed debut album, Come Away with Me.
GUITAR MODEL
Jones has been seen many vintage Starfire models throughout her career, likely because of their undeniable '60s jazz charm. She most commonly played her DeArmond-equipped '64 Starfire III, which can be seen in her Live in Amsterdam concert video from 2007.
Years later, and the current production of our Newark St. Starfire III is almost identical to Norah's vintage model.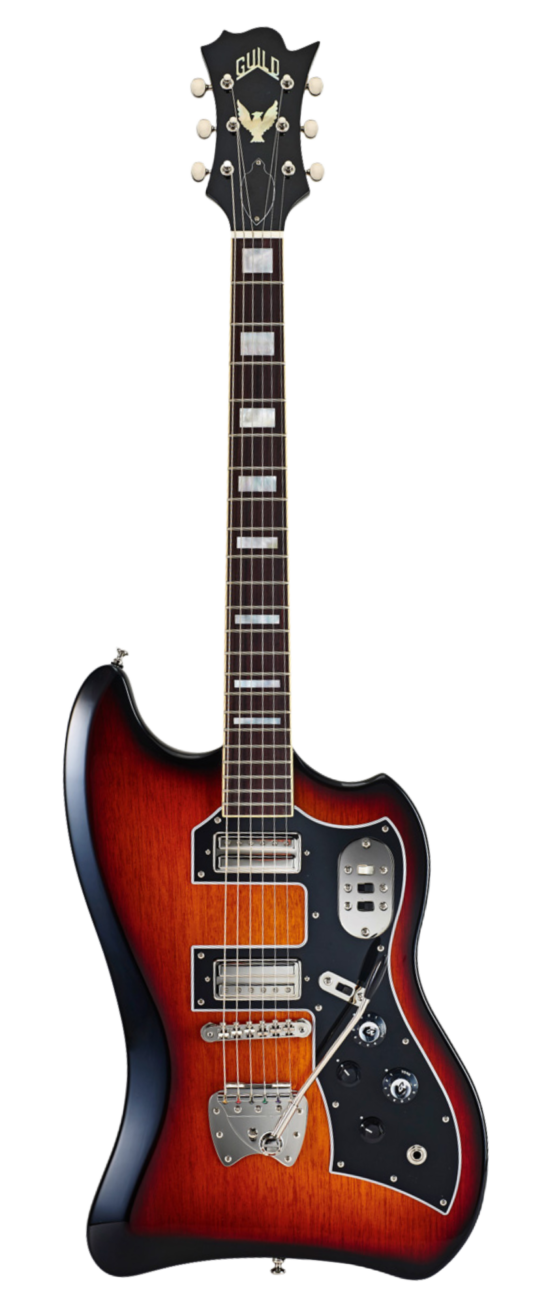 DAN'S GUITAR
S-200 T-BIRD
VIEW A NEW VERSION OF THIS GUITAR
DAN AUERBACH
Daniel Quine Auerbach (born May 14, 1979) is an American musician, singer-songwriter, and record producer, best known as the guitarist and vocalist of the Black Keys, a blues rock band from Akron, Ohio. As a member of the group, Auerbach has recorded and co-produced eleven studio albums with his bandmate Patrick Carney. Auerbach has also released two solo albums, Keep It Hid (2009) Waiting on a Song (2017).
Hometown – Akron, Ohio, USA
Career Highlight – After the large success of their eighth studio album, "El Camino", the Black Keys headlined several music festivals throughout the same year, including Catalpa Music Festival, Coachella, Memphis in May, Lollapalooza, and Osheaga.
Best known songs – Lonely Boy, Gold On The Ceiling, Howlin' For You
DID YOU KNOW…
In addition to winning several Grammy Awards as a member of the Black Keys, Auerbach received the 2013 Grammy Award for Producer of the Year, Non-Classical and was nominated again for the award in 2020 and 2021. He has produced records by artists such as Cage the Elephant, Dr. John, Lana Del Rey, Ray LaMontagne, CeeLo Green, and the Pretenders.
GUITAR MODEL
Originally produced between 1964 and 1968, the asymmetrical S-200 T-Bird was always one of the more off-the-wall designs in the Guild catalogue, but its resurgence in the hands of Auerbach generated plenty of interest in the model once more. Dan bought his '64 model shortly before The black Keys did Saturday Night Live in December of 2011, and has sported it since.
The T-Bird boasts "the widest variety of tones offered on any Guild instrument" courtesy of dual Guild LB-1 Little Bucker pickups, the S-200 packs rhythm and lead modes, pickup on/off switches and standard volume and tone controls – a switchable tone capacitor also creates hum-free single coil sounds.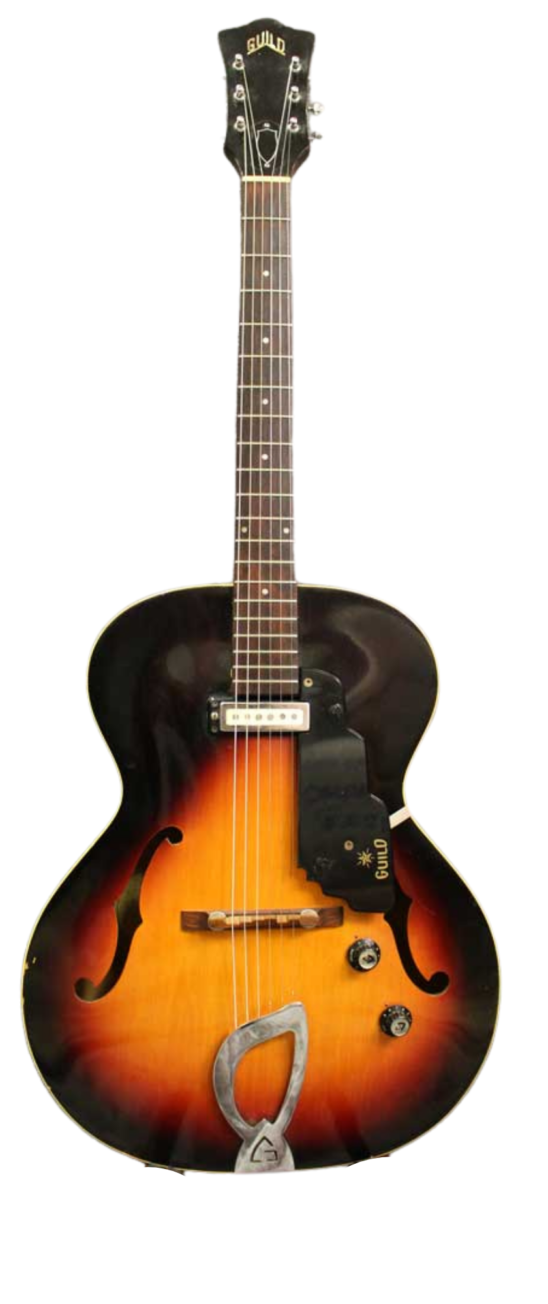 WESLEY'S GUITAR
X-50
VIEW A NEW VERSION OF THIS GUITAR
WESLEY SCHULTZ
Wesley Keith Schultz (born December 30, 1982) is the guitarist and lead vocalist for the American folk rock band The Lumineers. The Lumineers emerged as one of the most popular folk-rock/Americana artists during the revival of those genres and their growing popularity in the 2010s. The band's stripped back raw sound draws heavily from artists that influenced Schultz such as Bruce Springsteen, Bob Dylan and Tom Petty.
Hometown – Ramsey, New Jersey, USA
Career Highlight – Their debut single, "Ho Hey", reached number 3 on the Billboard Hot 100
Best known songs – Ho Hey, Stubborn Love
DID YOU KNOW…
When the founding members were first starting out in New York City, they were booking shows under the name Free Beer. Jeremiah Fraites told the Chicago Tribune, "it wasn't serious at first. We were a crappy band doing (terrible) covers. But we slowly started getting away from covers and writing originals. We were doing everything: vanilla singer-songwriter stuff, hard rock, electronic music. There was no focus; it was a mad, random mess."
GUITAR MODEL
Schultz of credits his vintage Guild X-50 as a pivotal contributor to the gritty sound on their latest album, III.⁠ In a recent Guitar Player interview, he discussed searching for a certain sound while recording the song, Gloria. "It sounded bad every time we would try to record it, until we tried the Guild X-50. We tried it super clean at first. Then we turned the amp off and just started miking the room and miking the guitar up close. The Guild had a kind of natural distortion when I really laid into it."⁠⠀