THE LEGENDS WHO PLAYED GUILD
The 1990s were full of a variety of pop, rap, and alternative music, but a new style of rock music began to make an impact. Bands like Alice In Chains and Soundgarden were offering youngsters a new type of rock music to listen to that contained catchy lyrics about the angst and trials of teenage years. Nirvana's "Smells Like Teen Spirit" spoke about a teen revolution in a seemingly meaningless world. The song also marked the beginning of the grunge and alternative rock phase that remained popular throughout the mid-1990s. Then, the likes of Green Day and the Goo Goo dolls carried that angst and brought it all the way to the 2000s.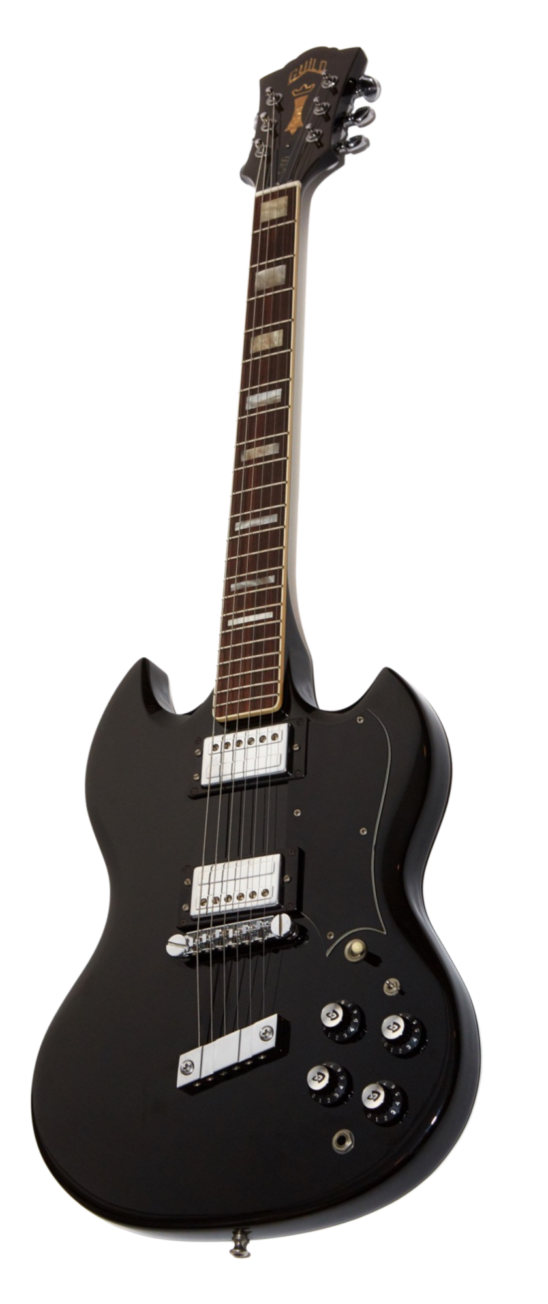 KIM'S GUITAR
S-100 POLARA
VIEW A NEW VERSION OF THIS GUITAR
KIM THAYIL
Kim Anand Thayil (born September 4, 1960) is an American musician best known as the lead guitarist of the Seattle-based rock band Soundgarden, which he co-founded with singer Chris Cornell and bassist Hiro Yamamoto in 1984, and remained as the original members of the band until their split in 2018.
Hometown – Seattle, Washington, USA
Career Highlight – Thayil was named the 100th greatest guitarist of all time by Rolling Stone in 2010.
Best known songs – Spoonman, Black Hole Sun
DID YOU KNOW…
Soundgarden became the first of Seattle's grunge bands to sign with a major label (A&M Records). They went on to release five albums, including three which went platinum at least once, and won two Grammys. Thayil became acclaimed for his guitar work, which was typically characterized by heavy riffing, and was cited among other grunge guitarists as an influence and a pioneer of the "Seattle Sound."
GUITAR MODEL
Thayil has played an S-100 Polara throughout his entire career, and still does to this day.
In an article by Guitar Player, Kim says, "A particular attribute of the Guild S-100— which is still my main guitar—is that the low strings are very resonant behind the bridge. That helps create weird harmonics when the signal is feeding back. I pick below the bridge, and slide my left hand up and down the string around the 12th fret to create a pulsating, harmonic effect. The other prerequisite is hot pickups. I noticed as a teenager that my guitar was louder than my friends' SGs and Les Pauls. The S-100's pickups are also slightly microphonic, so they are great for distortion and feedback."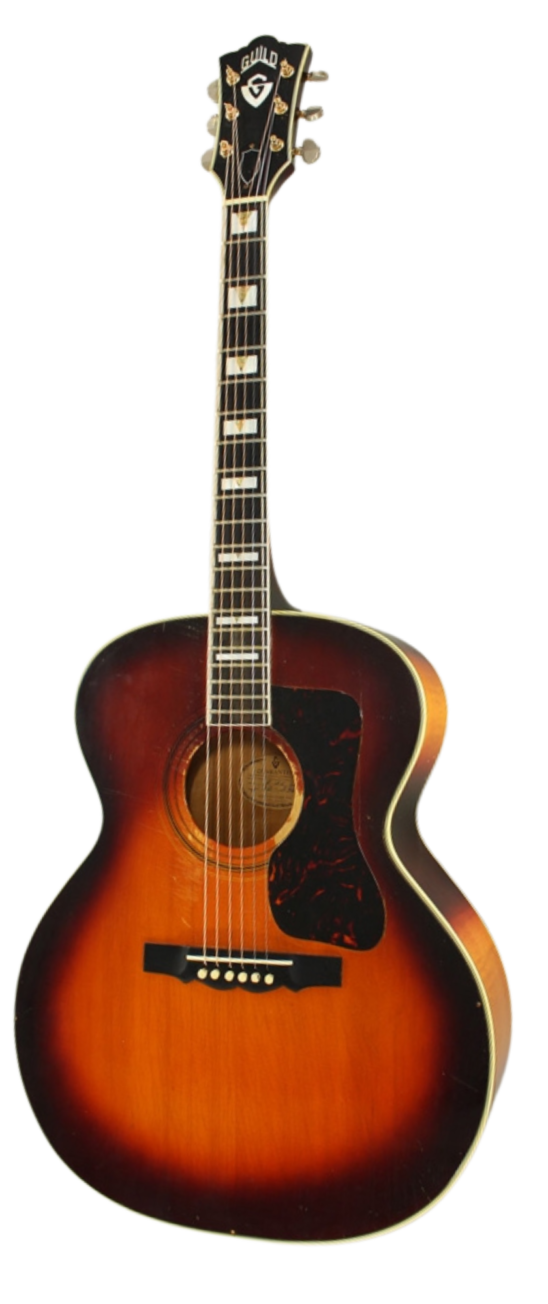 JEFF'S GUITAR
F-50
VIEW A NEW VERSION OF THIS GUITAR
JEFF BUCKLEY
Jeffrey Scott Buckley (November 17, 1966 – May 29, 1997), was an American singer, songwriter and guitarist. After a decade as a session guitarist in Los Angeles, Buckley amassed a following in the early 1990s by playing cover songs at venues in Manhattan's East Village such as Sin-é, gradually focusing more on his own material. After rebuffing much interest from record labels and Herb Cohen, the manager of his father, singer Tim Buckley, he signed with Columbia, recruited a band, and recorded what would be his only studio album, Grace, in 1994.
Hometown – Anaheim, California, USA
Career Highlight – Jimmy Page and Robert Plant of Led Zeppelin helped influence Buckley's music — they've called Grace one of the best albums of the past 20 years.
Best known songs – Hallelujah (cover), Last Goodbye, You & I
DID YOU KNOW…
Bob Dylan named Buckley "one of the great songwriters of this decade", but before releasing his first original album, "Grace", Buckley performed an eclectic selection of covers from a range of artists from Led Zeppelin, Nusrat Fateh Ali Khan, Bob Dylan, Édith Piaf, Elton John, the Smiths, Bad Brains, Leonard Cohen. His rendition of "Hallelujah" by Leonard Cohen has been called "Buckley's best" and "one of the great songs" by Time, and is included on Happy Mag's list of "The 10 Best Covers Of All Time".
GUITAR MODEL
Jeff used his F-50 quite often live for the acoustic bits, most notably during the Live in Chicago concert in 1995. During that gig, the guitar had a black tape covering the sound hole, which is basically a cheap way and an alternative to using sound hole covers that serve the purpose of preventing feedback. The guitar was also most likely used on the studio recording of 'Lover, You Should've Come Over'.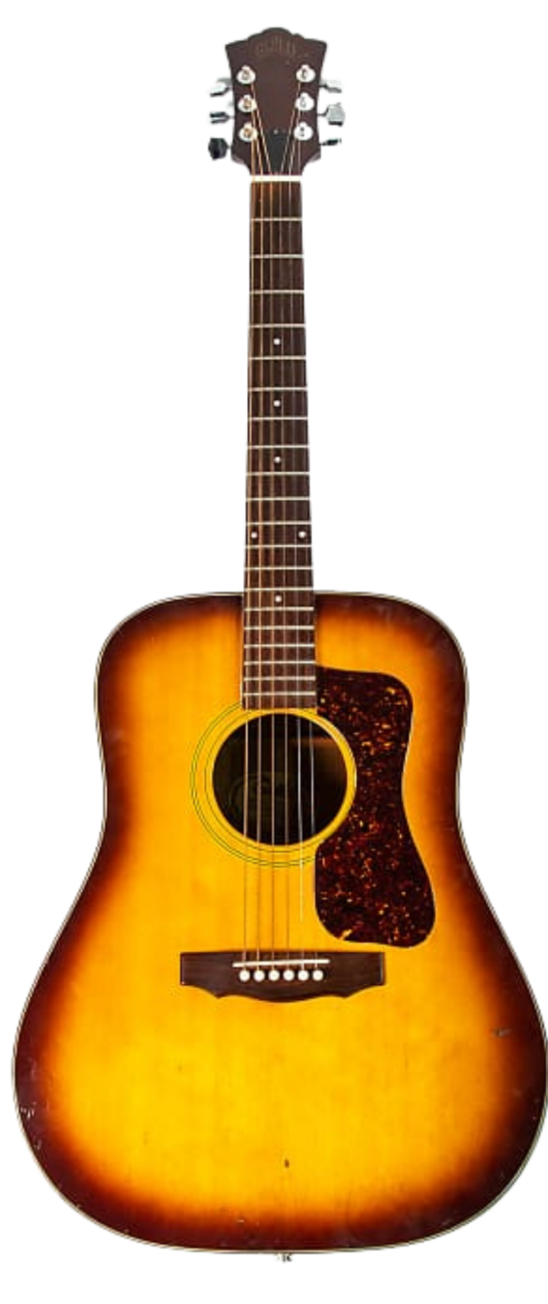 BILLIE'S GUITAR
D-35
VIEW A NEW VERSION OF THIS GUITAR
Billie Joe Armstrong
Billie Joe Armstrong (born February 17, 1972) is an American singer, songwriter, musician, actor, and record producer. He is best known as the lead vocalist, primary songwriter, and lead guitarist of the rock band Green Day, which he co-founded with Mike Dirnt in 1985. He is also a guitarist and vocalist for the punk rock band Pinhead Gunpowder, and provides lead vocals for Green Day's side projects Foxboro Hot Tubs, The Network, The Longshot, and The Coverups.
Hometown – Oakland, California, USA
Career Highlight – Green Day's album American Idiot has sold more than 15,000,000 copies worldwide
Best known songs – American Idiot, Boulevard of Broken Dreams, Wake Me Up When September Ends
DID YOU KNOW…
Armstrong developed an interest in music at a young age, and recorded his first song at the age of five. He met Dirnt while attending elementary school, and the two instantly bonded over their mutual interest in music, forming the band Sweet Children when the two were 14 years old. The band later changed its name to Green Day, and the rest is history.
GUITAR MODEL
Billie was seen playing many different Guild acoustic models during the Good Riddance (Time of Your Life) era in the late '90s. Notably his Sunburst D-35 in and G-50, as seen on MTV and various late night shows. The D-35, in particular, was known to be a collectable from Billie's personal collection and was used heavily during the Warning tour, both privately and in the bus.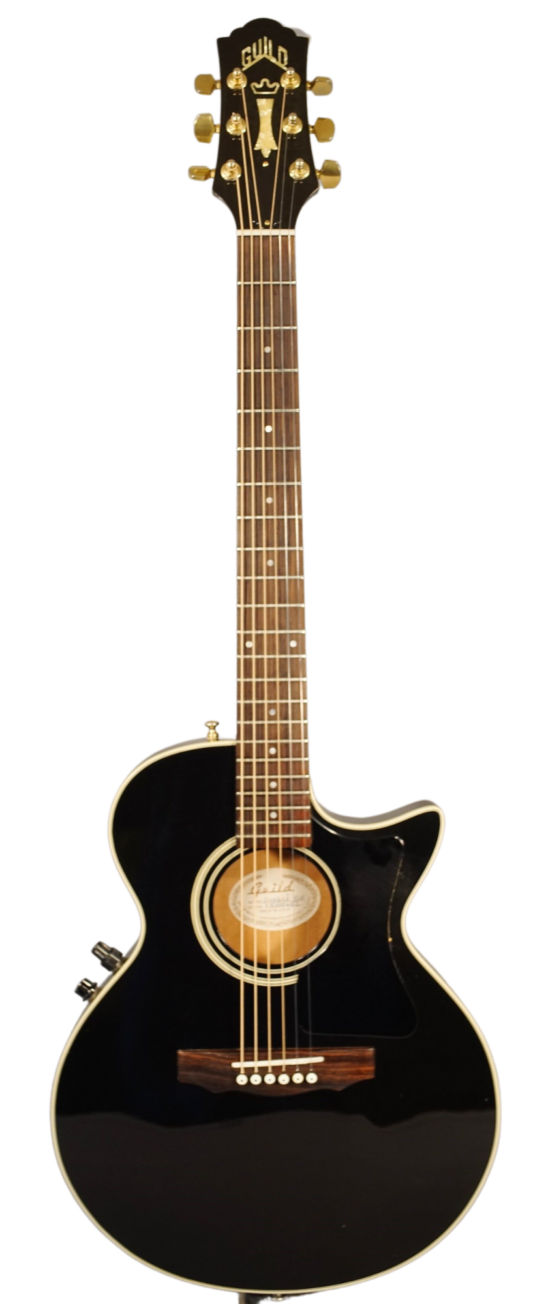 JOHNNY'S GUITAR
SONGBIRD
JOHNNY RZEZNIK
John Joseph Theodore Rzeznik (born December 5, 1965), is an American musician, singer-songwriter, and producer. Rzeznik is best known as the guitarist and frontman of the rock band the Goo Goo Dolls, of which he is a founding member and with whom he has recorded twelve studio albums.
Hometown – Buffalo, New York, USA
Career Highlight – The Goo Goo Dolls biggest single, Iris, spent nearly 12 straight months on the Billboard charts, and held the number one position on the Hot 100 Airplay chart for 18 weeks.
Best known songs – Iris, Slide, Name
DID YOU KNOW…
The hit song, "Iris",  held the record for the most weeks on top of the Billboard Hot 100 Airplay charts for almost 22 years before The Weeknd released "Blinding Lights" and broke the long-standing record on August 22, 2020. Shortly after Iris was released in 1998, it was nominated for three Grammys. According to several interviews with Rzeznik, he was experiencing serious bouts of writer's block when he was approached, and was on the verge of quitting the band days before he wrote the song.
GUITAR MODEL
Johnny played his Guild Songbird throughout many performances in the '90s, including the Black Balloon live shows in '99. This model is a fairly rare Westerly, RI. built Guild thin body acoustic/electric. Eric Clapton and Barry Gibb were also known to play it.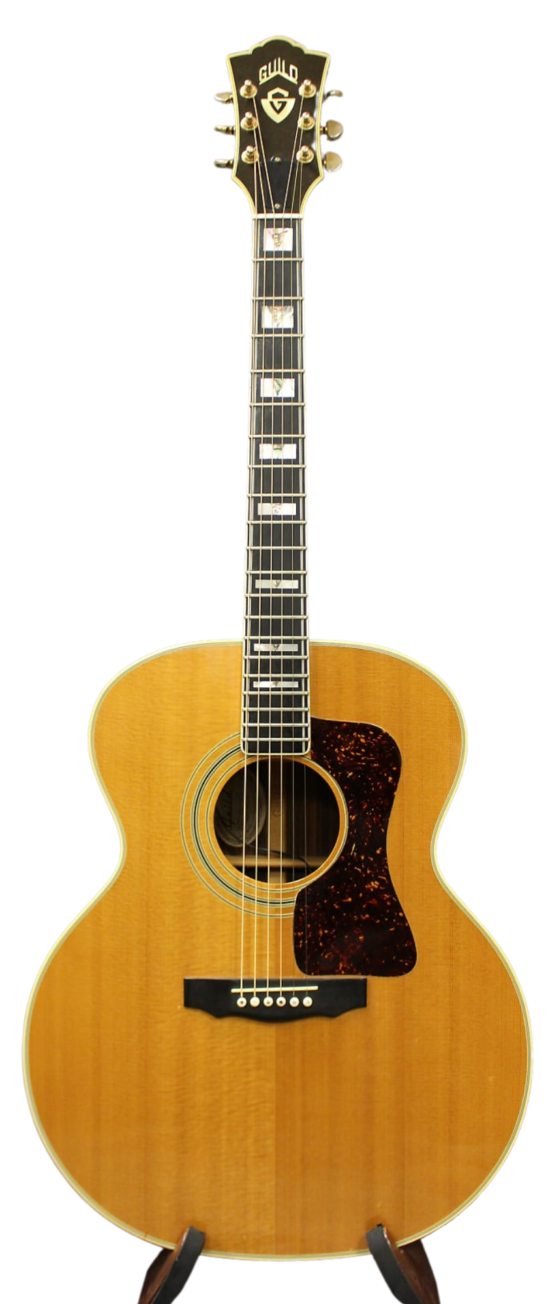 JERRY'S GUITAR
JF-55
VIEW A NEW VERSION OF THIS GUITAR
JERRY CANTRELL
Jerry Fulton Cantrell Jr. (born March 18, 1966) is an American musician and singer-songwriter. He is best known as the founder, lead guitarist, co-lead vocalist, and main songwriter of rock band Alice in Chains. The band rose to international fame in the early 1990s during Seattle's grunge movement, and is known for its distinctive vocal style.
Hometown – Tacoma, Washington, USA
Career Highlight – Alice in Chains was one of the most successful bands of the 1990s, selling over 20 million records worldwide, and over 14 million records in the US alone.
Best known songs – Would?, Rooster, Angry Chair
DID YOU KNOW…
In 1996, Alice in Chains played their first concert in two and a half years for MTV Unplugged, a program featuring all-acoustic set lists where Cantrell's use of his Guild's JF-30 and D-50 were on display. The show featured some of the band's highest charting singles, including "Rooster", "Down in a Hole", "Heaven Beside You", "No Excuses" and "Would?", and introduced a new song, "Killer Is Me", with Cantrell on lead vocals.
GUITAR MODEL
Cantrell notes the experience of playing his JF-55 on MTV Unplugged in '96 as his "first introduction to a quality acoustic guitar". Since that performance, Guild has been his go-to acoustic guitar brand.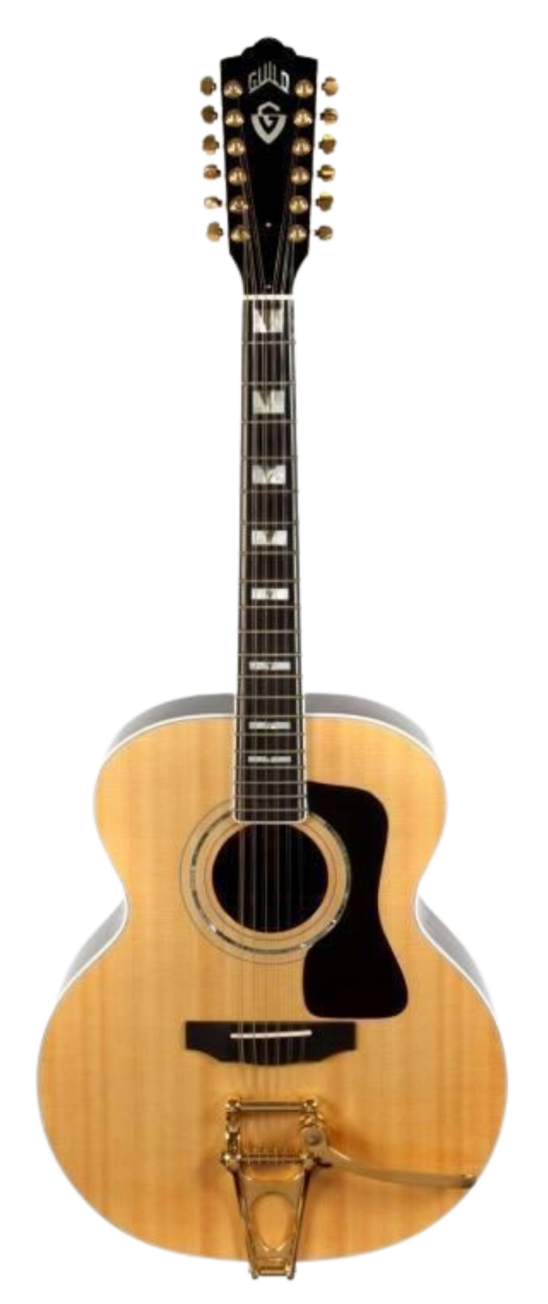 BRYAN'S GUITAR
JF-5512 NT
VIEW A NEW VERSION OF THIS GUITAR
BRYAN ADAMS
Bryan Guy Adams (born 5 November 1959) is a Canadian guitarist, singer, composer, record producer, photographer, and philanthropist. With several number 1 singles and albums in various countries, Adams has sold over 100 million records worldwide. Adams was the most played artist on Canadian radio in the 2010s and he has had 25 Top 15 singles in Canada, and a dozen or more in the US, UK and Australia.
Hometown – Kingston, Ontario, Canada
Career Highlight – Adams has sold over 75 million records worldwide throughout the span of his career.
Best known songs – (Everything I Do) I Do It for You, Heaven, Have You Ever Really Loved a Woman?
DID YOU KNOW…
Adams wrote his massive hit,'(Everything I Do), I Do It For You' in under an hour. The song, a wedding staple in the '90s, was written for the 1991 movie 'Robin Hood: Prince of Thieves'. Adams had to compete with some of the industry's biggest names for the job. Since then it has sold over 15 million copies worldwide.
GUITAR MODEL
Bryan has been seen playing a JF-55 and a JF-5512 throughout his "Heaven Unplugged" era in the Summer of 1998. He unconventionally attached a Bigsby tailpiece to each acoustic.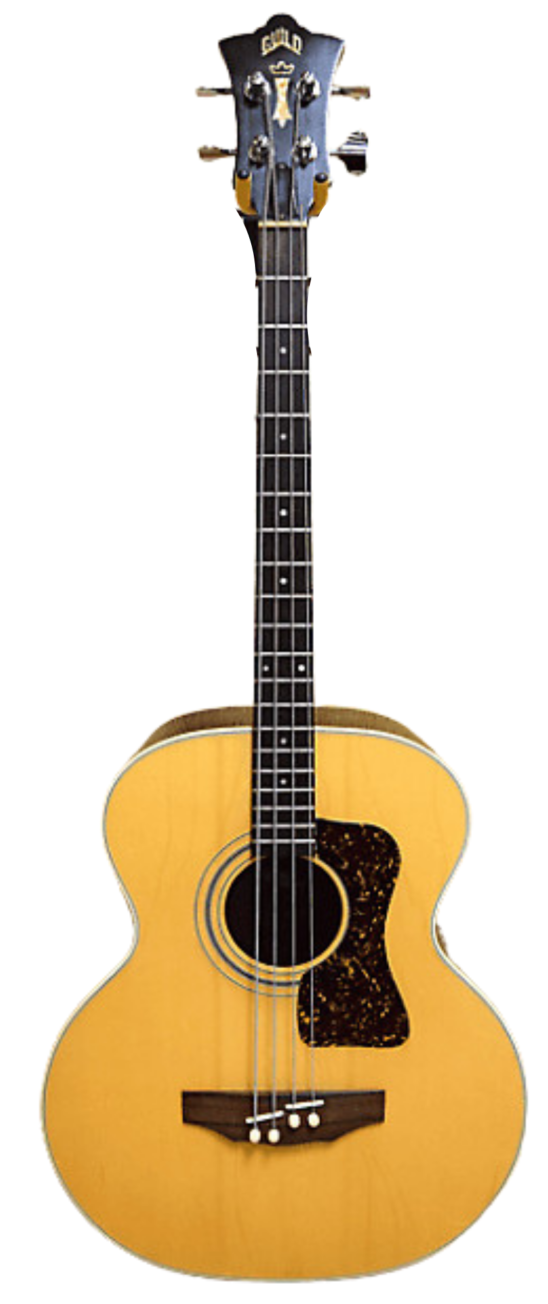 KRIST'S BASS GUITAR
B-30E BASS
VIEW A NEW VERSION OF THIS GUITAR
KRIST NOVOSELIC
Krist Anthony Novoselic (born May 16, 1965) is an American musician and activist best known as the bassist and a founding member of the rock band Nirvana.
Hometown – Compton, California, USA
Career Highlight – MTV Unplugged performance in 1993, months before bandmate Kurt Cobain's death.
Best known songs – Smells Like Teen Spirit, About A Girl
DID YOU KNOW…
Cobain and Novoselic's first band lasted barely a few weeks before it disbanded, leaving the pair to move on. However, the duo eventually discovered that the Melvins could pull $80 a night for one show. Inspired, Cobain and Novoselic started a Creedence Clearwater Revival cover band, in which Cobain played drums and Novoselic sang and played guitar. That band was short-lived as well. Some months later, Cobain and Novoselic met drummer Aaron Burckhard. While the new band never used the name, it was the first incarnation of Nirvana.
GUITAR MODEL
Krist famously played a Guild B-30E semi-acoustic bass for the MTV Unplugged performance in 1993, that later became an entire "unplugged" album. The B-30E was one of Guild's first basses to come out of US production, and is still closely replicated today by our Westerly series acoustic basses.