A retro crowd pleaser: Guitar World reviews the Starfire II ST Dynasonic
"A retro crowdpleaser offering a slightly more premium feel than the standard Starfire II, the Dynasonic is a classy, good value choice for jazz cats and rock-and-rollers alike.
Specs
Announced last year is this latest addition that swaps the humbuckers for DeArmond Dynasonics and comes in a deep Royal Brown gloss finish with gold-plated hardware and a slightly higher price. Even so, with no pickguard, understated it remains. It's a 416mm (16.4-inch) wide single-cut with that thin line depth at the rim of 48mm. Guild groups it in its Semi-Hollow section, along with center blocked guitars such as the Starfire V, whereas the III, with its dual top braces, is classed as a Hollowbody.
The Starfire II is a bit of a halfway house: to mount the standard tune-o-matic and stud tailpiece (the 'ST' of its name) there are actually two stacked wood blocks that support this real estate and connect the top and back. There's no other bracing that we can see or feel. It means that it's a lightweight guitar – a partial semi, if you like.
Electronics
Like the standard II ST, this Dynasonic version goes for a classic two-volume/two-control setup with shoulder-placed toggle. It really is only the pickups that have changed as far as the electric side is concerned. The DeArmond brand is now owned by Cordoba, and this is the first new electric design – the Tone Boss acoustic soundhole pickup has been with us for a couple of years.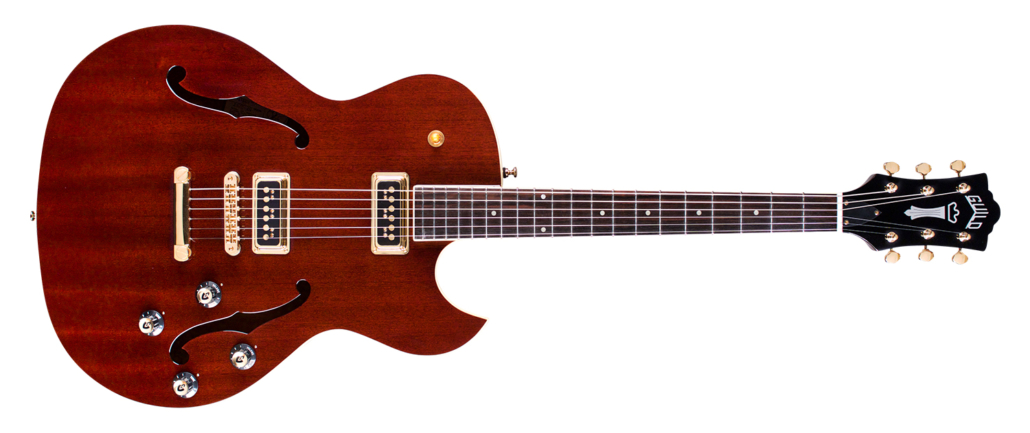 The Verdict
A smart addition to the slowly expanding Newark St line-up, this single-coil version of the Starfire II is a hugely enjoyable piece and fairly unique. Its thin line hollow-body style with its bridge block design produces a lightweight guitar that more than evokes the style of the 50s and 60s as the jazz age gave into to the tide of rock 'n' roll.
And from defined lounge jazz to earthier roots rock and rockabilly, it covers considerable ground, proving a very valid alternative voice to the mini-humbucker-equipped standard Starfire II."
Read the full Guitar World review here or watch it below.
Watch the full video review