Guild's New Retro Rebel: The Starfire I Jet90
Taylor Buck
Director of Marketing, Cordoba Music Group
Guild Guitars
Guild hits the races with the Starfire I Jet90—a vintage-inspired, retro-rocker driven by grit, guts and three Franz P-90 pickups.

Some guitars are are born with spirit—instilled with an essence of heritage from those who came before. Perhaps it's namesake, legacy or the influence of style forged over years… or perhaps attitude and a streak of rebellion can just rear it's head when you least expect it. Nevertheless, a soul emerges.
Playing the new Starfire I Jet90 is a bit like testing the throttle on a vintage bike, racing along the curved roads above a narrow stretch of coastline. It's freeing, exhilarating, a bit dangerous—but it's the excitement of wavering on the edge of order and chaos that makes you feel most alive. A good guitar can offer that, and the new Starfire I Jet90 is here to compete.
What's In A Name?
The Starfire I Jet90 combines the classic Starfire body shape with the slick, rugged aesthetic of Guild's vintage 6 in-line headstock. 6 in-line's were (and still are) an iconic part of Guild's Jetstar line, seen all the way back to the early '60s. Thus, the name is conceived—three Franz P90s pups strapped to a Starfire I semi-hollow chassis, crowned by the Jetstar headstock… enter the Starfire I Jet90.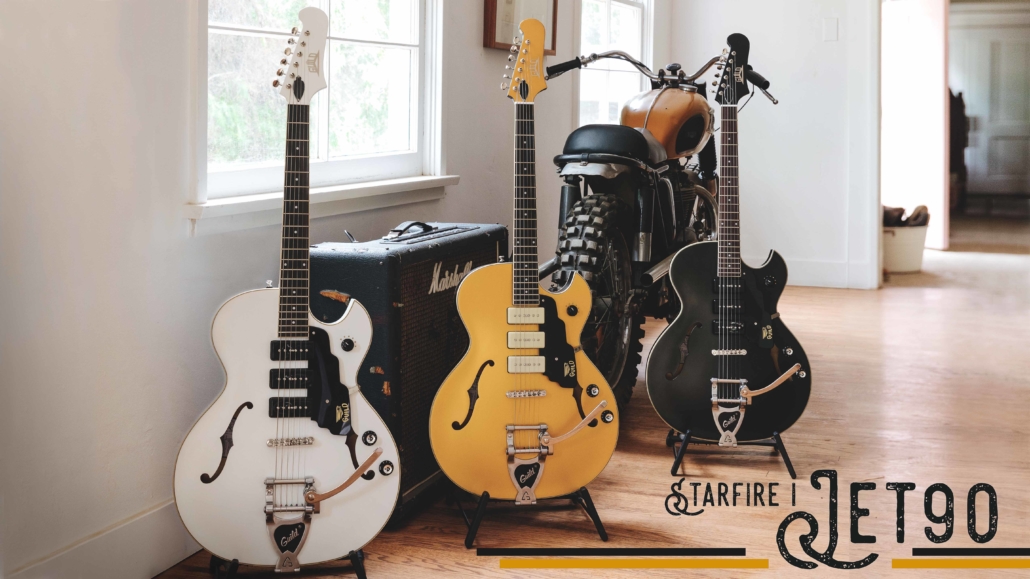 Let's Talk Tone
The three Guild Franz P90 pickups are anchored to a chambered mahogany center block. The chambered block reduces overall weight and helps stabilize the pickups, allowing them to shine in all their P90 glory. You'll get everything from crisp, vintage jazz tones to open-throttle overdrive. Let's just say there's lots of fun to be had. The six-way rotary switch allows players to dial in their preferred P90 combination for the right amount of bite to any riff, while switch position indicator pins (in the style of 1950's Guilds) help keep the player on track. The rotary switch is your magic wand… allowing multi-combination access to six different tonal options. Each combo offers unique voicing. Below is a diagram to represent the various options: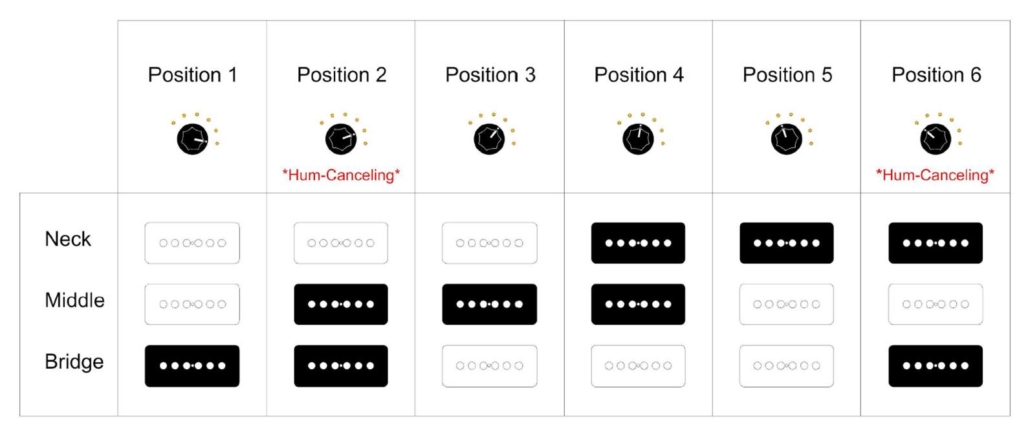 The tones on the Jet90 are abundant and damn fun to play around with. For a great run-through on each configuration, and to hear them performed by an exceptional guitarist, check out R.J. Ronquillo's demo video for the Starfire I Jet 90.
Freedom of Form
Historically, Guild has made it clear they have no problem diving headfirst into unconventional waters to experiment with product design (just take one look at the T-Bird and you'll agree). While the Jet90 doesn't stray excessively from convention, it offers up a combination of traditional features that are somehow both unique and familiar. Comparisons to vintage Italian and Japanese semi-hollows have been voiced in fan forums, as well as pawn shop parallels and alt-reality resemblances. One thing is clear, this guitar will garner a reaction and players will feel strongly one way or the other. Traditionalists may shun the irreverent headstock choice, while others will be attracted to it for breaking standards. One thing is clear, the Starfire I Jet90 carries a certain swagger only available to guitars designed with a sense of confidence and no-holds-barred freedom.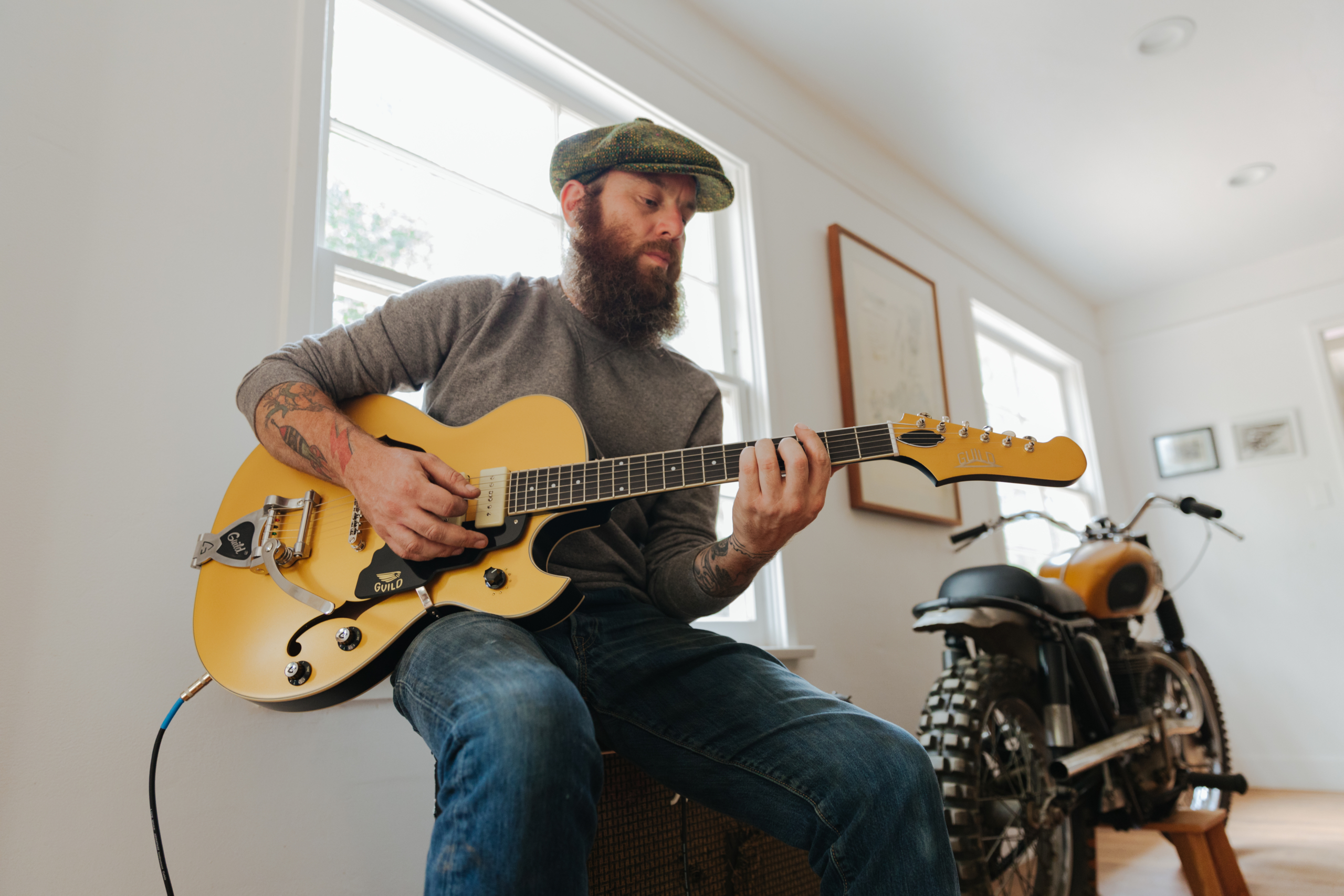 ---
A Smooth Finish
Part of the Starfire I Jet90's retro looks comes from the Guild Vibrato Tailpiece and Tune-o-matic bridge. The Bigsby-esque vibrato immediately adds vintage vibe, finished off by the Guild script logo. Also, something akin to Moto Culture or Cafe Racer aesthetic inherently emerges from the juxtaposition of curves, lines, steel bars/piping, and satin paint. This culture-comparison is further enhanced by the Guild "Freedom Wing" logo on the pick guard—a winged grouping of stars resembling vintage biker glyphs and flash tattoos. This decal alone oozes character and fits in with the Guild aesthetic quite well.
The three finishes add a vintage value of their own. The satin gold model is actually a clever, two-tone arrangement of gold top and black back and sides. The white is standard configuration, while the satin black makes the term "murdered out" fittingly apropos with it's black top, back, sides, headstock, and matching pickup covers.
On Any Sunday
If bucking convention aligns with your nature, the Jet90 could be just the guitar you're looking for. With a U.S. street price of $649, the Jet90 fits within an attainable range for most players (especially when you account for the amount of bang-per-buck). It's a standout semi-hollow contender with an abundance of tone versatility and retro personality.
Whether adding a cost-conscious tone machine to your arsenal, or subscribing to the church of semi-hollow sovereignty for the first time—look no further than the Starfire I Jet90.