Premier Guitar's First Look: Guild X-175 Manhattan Special
Condensed Transcript of John Bohlinger's video review
[John B. plays Chet Atkins' Mr. Sandman]
This guitar is a true hollowbody. The Chet Atkins song alludes to that era of guitar making where hollow bodies were the norm. There is a richness in that tone you just can't get any other way. And they've really nailed it here.
Specs
The Guild X-175 Manhattan has an arched spruce top – an important ingredient in any acoustic instrument—and that's really how I think of this. It starts as an acoustic instrument, then it goes from there.
Arched maple back and maple side. 3-piece neck. That same vibe they were doing in the 1950s and 60s.
Electronics
These authentic DeArmond Dynasonic pickups really have a thing. That vintage, old-school, rich, jazzy, rockabilly tone is all there. [Plays chords] But those pickups are just so rich! There's such a tone there.
[Activates bridge pickup] Then with just the bridge – you've got a little bit of twang. Love the in-between tone.
These guitars were used back in the day when there really weren't effects. But there's so much personality there. I love the Bigsby-eque, Guild vibrato tailpiece. I've been whangin' on this thing pretty hard and it seems to stay in tune.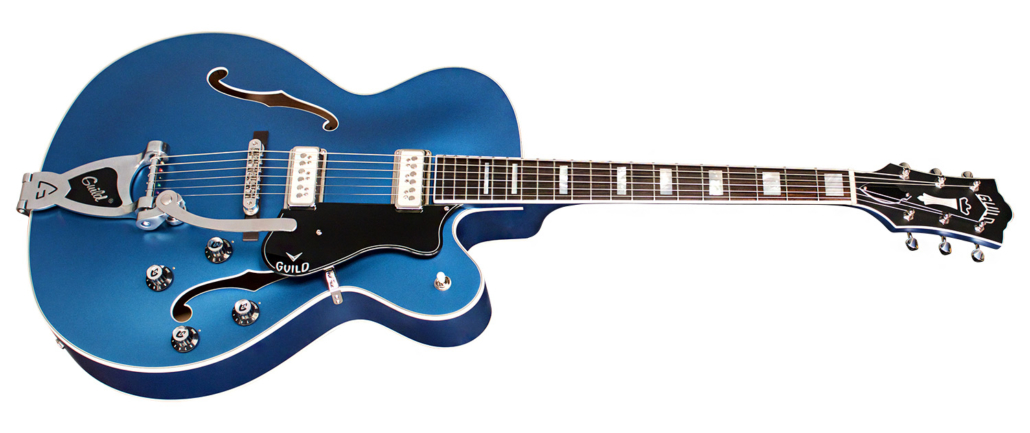 Aesthetics
I liked that they rocked it up. Love the look of these big block inlays and the Malibu Blue finish is just too cool. Comes with a hardshell case and the street value is like $1500. So not a bad price and a lot of guitar for that.
This is a 24.75 scale. Dual action trussrod. Medium jumbo frets. 20 frets in total. Nut width is 1 11/16 and it's a bone nut.
So good on ya, Guild! Love the new X-175.
Watch the full video review