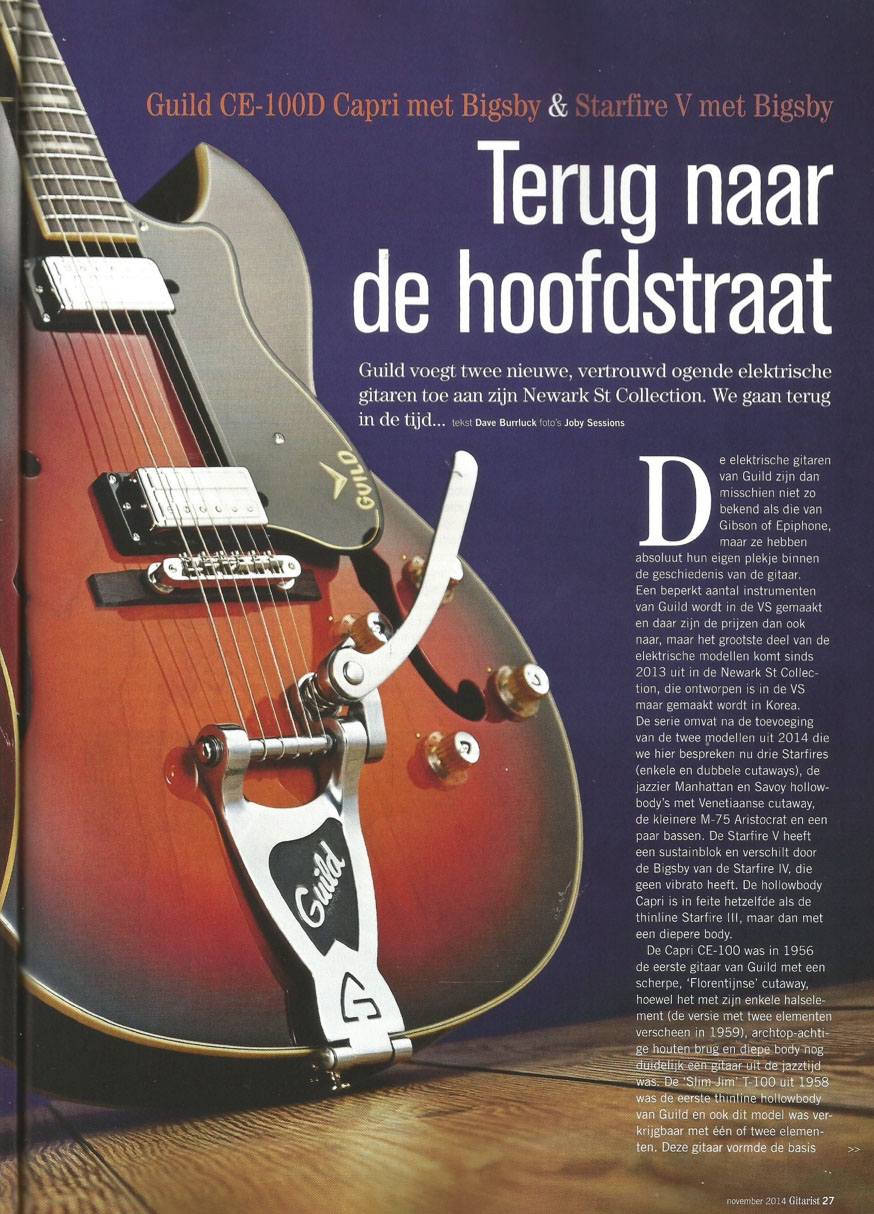 Dutch magazine Gitarist recently reviewed both the Guild CE-100D Capri and the Starfire V in an article entitled "Back to the Main Street." Scoring 4.5 out of 5 stars overall, as well as 4.5 stars in construction, playability, sound, quality and price, the Starfire V was an instant favorite for author Dave Burrluck. The CE-100D Capri also scored 4.5 stars with Burrluck commenting, "With its sharp price, it's hard not to find it good."
For those of you whose Dutch is a bit rusty, here's an excerpt of Gitarist's conclusion:
Guild has an interesting history as the lesser known competitor of Gibson and Epiphone with a preference for the modernism of the sixties: the transition from jazz to the new rock 'n' roll and pop music-styles, which marked the first golden era of the electric guitar.

Much attention has gone into the history, but these are no slavish reissues; the Capri and Starfire do have the specific feel and appearance of the originals. We can honestly say that we would use the Capri for recordings and smaller gigs, while the Starfire is more suitable for louder rock dissipations. With these pleasing prices, you can buy both models for less than you would spend on a Gibson ES-335. Food for thought?
Check out more of the CE-100D Capri and Starfire V on our website!
https://guildguitars.com/wp-content/uploads/2014/11/Guild-Blog-Gitarist-Review.jpg
1214
874
Myrna Cazessus
http://guildguitars.com/wp-content/uploads/2015/08/Guild_Made_Lockup1.png
Myrna Cazessus
2014-11-20 00:19:53
2014-11-22 02:09:37
CE-100D Capri and Starfire V Snag 4.5 Stars from Dutch Magazine "Gitarist"