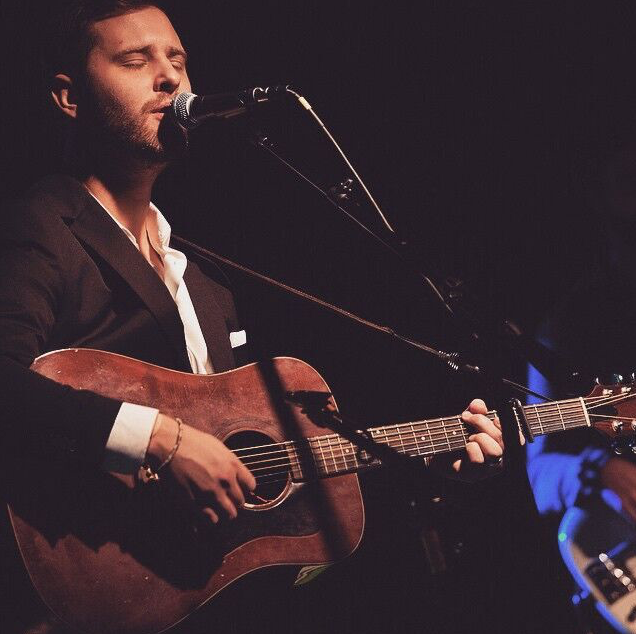 If you're familiar with The Voice, you'll have heard of Guild Artist Brian Pounds. If you're not a Voice fan, then we're super excited to be the ones to introduce you to this amazing singer/songwriter. Hailing form Austin, Texas, Brian combines his powerful voice with heart-wrenching lyrics and beautiful chord progressions on his Vintage Guild. Brian stopped by Guild HQ to play a few of his original songs on our new Guild USA M-20 & D-20 and humored us by answering a few questions.
GG: Tell us about your Guild. How/when/where did you find it?
BP: I've been a Ryan Adams fan for years now. When I first started playing shows I had a Taylor, but the tone just wasn't it for me. I knew Ryan Adams played a Guild and I really liked that tone. I scoured Craigslist for weeks and saved up enough money to buy this Guild that needed a little bit of work from a guy who didn't play very much anymore. I've spent probably 5 times the amount upgrading the guitar then I what I bought it for. The tuners were bad on it. I replaced the bridge. Added a new pickup. It might have got a refret at some point. But if there was ever a fire, that guitar would be the only possession I would run in the burning building after. It's my favorite thing in the world. 
GG: Does your Guild influence your tone and your style of writing?
BP: Absolutely. The thing I've learned over the years is that different guitars are good for different things. The woods, the shape. I've written most of my songs on my Guild. I'll go pick up someone else's guitar to write, and it'll be interesting. I'll get something different out of it, just from how my fingers react to the guitar. But I write like me when I'm on my Guild. It feels like home. 
GG: Do you write melodies first, or words? Both at the same time?
BP: Words. Every once in awhile an idea will come at the same time. A line that has a melody attached to it. But most of the words come first. Then the melody. Then the rest of the words. 
GG: How did you decide that music was what you wanted to do, full time?
BP: Well I decided when I was 10, like everyone does. I wanted to be a rock star–I just never grew out of it. I've had to prove it to myself over and over again that this is what I want. I've tried to go to college 4-5 times, but I always come back around to this. Music has just become who I am really. It's so far integrated into my life now that it's hard to imagine what I'd be like without it. 
GG: Did your time on The Voice affect your sound or your approach toward music at all?
BP: I wouldn't say it affected my sound. It definitely affected how I view the music industry and how I present myself. A segment on The Voice is 3:30 minutes of story and 90 seconds of music. The real life music industry isn't really an exception to that rule. Social media is just as important, if not more important, as music these days. People used to listen to records to relax; now they scroll through an Instagram feed. I think that's tragic in one way but also great in another. You used to wonder about where the songs came from if you loved an artist. Now you have a kind of insight into those peoples lives. Sort of.
I do think my time on The Voice helped me realize that there's no such thing as a hit song anymore. It's really about selling something broader. An idea. Not just for the Taylor Swift's of the world. The best album that's been put out in the last 10 years–Southeastern by Jason Isbell–is all about his new found sobriety. Isbell has been a phenomenal songwriter forever, but as soon as he got sober, there was a story to tell. The album is namely about redemption in sobriety. He's the coolest, most authentic guy there is in the industry, and even he's posting pictures of his kids and writing jokes on Twitter. No one is immune from the machine anymore. 
GG: What's been your favorite gig to date?
BP: There have been giant cornerstone gigs of my life (like opening for Blake Shelton to a sold out stadium crowd with just me and a guitar) that have been amazing and beyond my wildest dreams of what could of ever happened. But the best gigs to me have been the ones that you struggle for years to get and then they finally happen. I played the Bluebird Cafe this past Jan and it sold out in the middle of a tornado warning. That was pretty amazing. I recently booked a residency for every Monday at the Saxon Pub in Austin opening for Bob Schneider. That room is 220 people max and it's on a Monday. But it's a prestigious room. They don't let people play there who aren't good. So that was kind of an affirming gig to me that not only could I get in to the Saxon Pub, but I can play it on a regular basis. That's probably my favorite gig of the recent past. 
GG: Plans for the future?
BP: I plan on going into the studio to record an album this year. I'm excited about that. This is the first time that I've gone into the studio with enough material to turn down good songs. Normally, I'm scratching and itching to find the last tracks of the album. I've been playing songs for the new record for years now. It's a relief to have that kind of familiarity with them before going to record.
Keep an eye on Brian's upcoming shows here. Check out more of his performances here. Learn more about the M-20 and D-20 here.
https://guildguitars.com/wp-content/uploads/2016/04/Brian_Pounds.png
634
636
Myrna Cazessus
http://guildguitars.com/wp-content/uploads/2015/08/Guild_Made_Lockup1.png
Myrna Cazessus
2016-04-28 17:19:38
2016-04-28 17:19:38
Artist To Watch: Brian Pounds