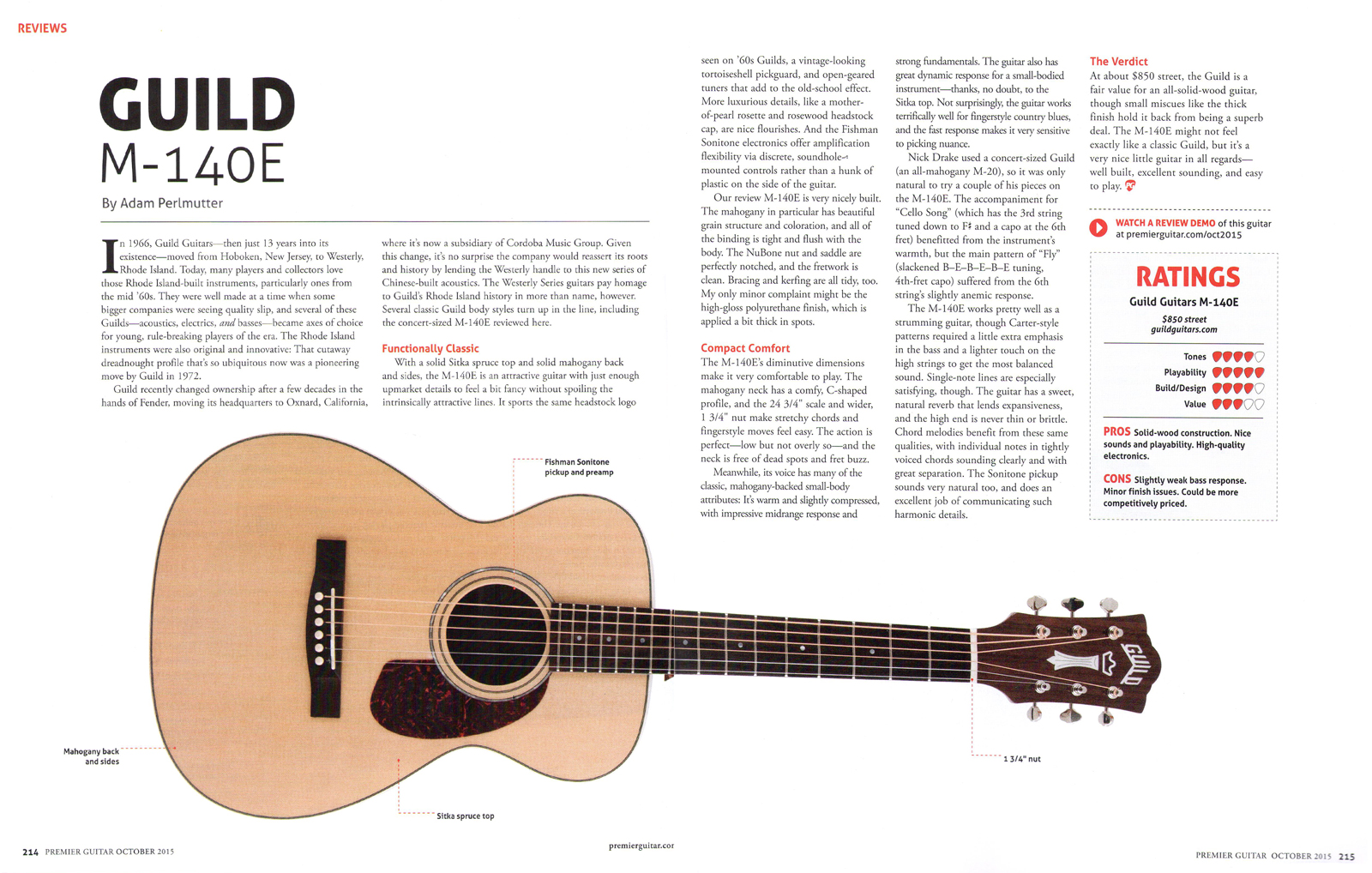 Premier Guitar reviewed the brand new Guild M-140E from the Westerly Collection in their October issue. This all-solid, concert-sized guitar got rave ratings! Here are a few of our favorite quotes:
On Aesthetics:
"With a solid Sitka spruce top and solid mahogany back and sides, the M-140E is an attractive guitar with just enough upmarket details to feel a bit fancy without spoiling the intrinsically attractive lines. It sports the same headstock logo seen on '60s Guilds, a vintage-looking tortoiseshell pickguard, and open-geared tuners that add to the old-school effect. More luxurious details, like a mother-of-pearl rosette and rosewood headstock cap, are nice flourishes. And the Fishman Sonitone electronics offer amplification flexibility via discrete, soundhole-mounted controls rather than a hunk of plastic on the side of the guitar."
On the Sound:
"The M-140E's diminutive dimensions make it very comfortable to play. The mahogany neck has a comfy, C-shaped profile, and the 24 3/4″ scale and wider, 1 3/4" nut make stretchy chords and fingerstyle moves feel easy. The action is perfect–low but not overly so–and the neck is free of dead spots and fret buzz. Meanwhile, its voice has many of the classic, mahogany-backed small-body attributes: It's warm and slightly compressed, with impressive mid-range response and strong fundamentals. The guitar also has great dynamic response for a small-bodied instrument–thanks, no doubt, to the Sitka top. Not surprisingly, the guitar works terrifically well for fingerstyle country blues, and the fast response makes it very sensitive to picking nuance.
"The guitar has a sweet, natural reverb that lends expansiveness, and the high end is never thin or brittle…The Sonitone pickup sounds very natural too, and does an excellent job of communicating such harmonic details."
The Verdict:
"At about $850 street, the Guild is a fair value for an all-solid-wood guitar…The M-140E might not feel exactly like a classic Guild, but it's a very nice little guitar in all regards–well built, excellent sounding, and easy to play."
You can read the full article on premierguitar.com here, and learn more about the M-140E here.
We're currently giving away an M-140! Have you entered yet? Entry form is here, contest closes on September 30th, 2015!
https://guildguitars.com/wp-content/uploads/2015/09/pg_m-140_review_october_small.jpg
1018
1600
Myrna Cazessus
http://guildguitars.com/wp-content/uploads/2015/08/Guild_Made_Lockup1.png
Myrna Cazessus
2015-09-25 16:27:12
2015-09-25 16:27:12
Premier Guitar Reviews the M-140E