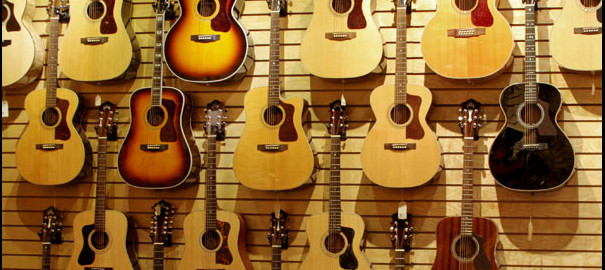 Ludlow Guitars in Manhattan's Lower East Side is a class-act New York destination for connoisseurs of fine instruments.
"In a supermarket, you can get 18 different kinds of sliced white bread," says owner Jan Howell. "And if you know what you want, then that's a perfectly good place to go. We're not the supermarket; we're the corner store."
But Ludlow Guitars doesn't discriminate. Although the store attracts mostly discerning musicians, its doors are open to all. Besides, it's hard for the average bystander not to be captivated by the bedazzling eye-candy mounted on the store's walls.
"Our objective is to get customers inside our store, and show them what we've got," says Howell. "Then we want to wrap their arms around something they like, rather than having them end up with an instrument that might not be for them."
Customers can indulge in Ludlow's vast instrument selection, including Guild guitars, which Howell regards very highly.
"Guild guitars have got a well-defined voice; more so than other brands I've come across," says Howell. "Their voice is big, bold and clear."
Ludlow Guitars also offers lessons, and has an expert luthier on staff. The store carries a hefty stock of boutique amps and a great selection of pedals and effects.
Ludlow Guitars
172 Ludlow St.
New York, N.Y. 10002
www.ludlowguitars.com.
https://guildguitars.com/wp-content/uploads/2012/02/lud.jpg
310
605
Myrna Cazessus
http://guildguitars.com/wp-content/uploads/2015/08/Guild_Made_Lockup1.png
Myrna Cazessus
2012-02-05 16:39:18
2012-02-05 16:39:18
Dealer Spotlight: Ludlow Guitars, New York, N.Y.