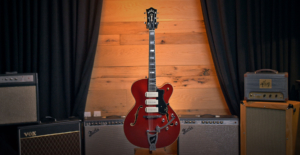 Guild Guitars got its start in New York City in 1952 when a 4 month strike at the Epiphone Company left many workers without a job. Professional guitarist and music store owner Alfred "Al" Dronge, and ex-Epiphone executive George Mann, formed a partnership and registered the Guild name that October. With Mann's workforce and Dronge's passion for jazz music, Guild concentrated solely on the production of full-depth hollow body electric guitars for their first year in 1953. The experienced luthiers from Epiphone borrowed ideas from the base design of the Zephyr Emperor, making the body slightly smaller for ease of performance, and opting for three Franz P90 single coil pickups. In an effort to build better guitars before production, Al used his connections with many of the best players and recording artists in the city to receive a lot of valuable professional input on his designs. As a result, the newly branded X-350 Stratford became Guild's most successful high-end model in the 1950's.
This new Scarlet Red X-350 Stratford is a wonderfully fresh take on a revered classic. Steeped in New York City jazz, this fully hollow guitar sports an arched spruce top, maple back and sides, and inner spruce tone bar braces to help project its acoustics like a pre-pickup arch-top would. It has a 3-piece mahogany and maple neck, with a beautiful 20 fret ebony board inlayed with Mother of Pearl blocks. The body, neck, headstock, and F-Holes are all bound, the Tune-O-Matic bridge is pinned to the top of the guitar at its ebony base, and the vintage style acrylic gold and black pick-guard hugs three Franz P90 Dog Ear pickups.
Made with Alnico 5 magnets for more bite and sparkle, these pickups accentuate the acoustic characteristics already inherent in the guitar, and provide a platform for nearly any electric guitar tone. The design team at Guild decided to ditch the outdated and cumbersome six button pickup selector panel, and opted for a more practical three volume and one master tone knob configuration. With this you can control the individual volume of each pickup. While the 3-way toggle controls only the bridge and neck pickups, the middle pickup volume acts as a blend knob in any toggle position, thus giving the player six tonal options mirroring the original X-350. Additionally, you can be even more expressive in your playing with the newly added Guild vibrato tailpiece. While the dominant arch-top pickup of choice eventually became the hum-bucker, the P90 made its mark with many players in jazz and rockabilly for its clarity and punch, notably artists such as Johnny Smith, Grant Green, Charlie Gracie, and Red Newmark.
With the decline of swing and bebop, and the rise of folk and rock music in the late 1960's, the production of the X-350 Stratford came to a halt. Now with over 50 years of hindsight, the Guild Guitar company has decided to take a leap of faith and reinvent the reinvented. With reconfigured electronics, modern acoustic enhancements, and an eye-catching finish, the new X-350 Stratford exemplifies what is arguably the greatest era in jazz and rock, while pushing into the future with the grace and elegance of its own history.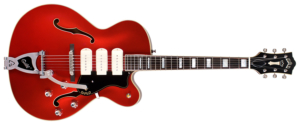 Entry by: Dylan McGee Jones
https://guildguitars.com/wp-content/uploads/2020/01/Side4-2R9A8670m.jpg
630
1500
Myrna Cazessus
http://guildguitars.com/wp-content/uploads/2015/08/Guild_Made_Lockup1.png
Myrna Cazessus
2020-01-13 16:24:11
2020-01-13 17:38:47
A Fresh Take on A Revered Classic : The X-350 Stratford