GUILD BOB MARLEY ACOUSTIC GUITAR HITS
By Jason Farrell
Contributing Editor | Principal, Jason D. Farrell LLC
"Mar-ley", two of the most positive and evocative syllables ever spoken in the English language. … Is there an individual born in the 20th Century, more universally loved throughout the world than Bob Marley? If you can think of someone, let me know as I'm at a loss. So, when Bob's family reached out to Guild Guitars a few years ago to collaborate on a project, Guild listened.
The two groups met to create an instrument worthy of having those same syllables carved into the fretboard at the 12th fret. And it's not just any instrument; the Guild A-20 Marley acoustic guitar is inspired by the guitar Bob used on 56 Hope Road in Kingston, Jamaica to write "Three Little Birds", "Is This Love", "Jamming", and so many more of his beloved songs.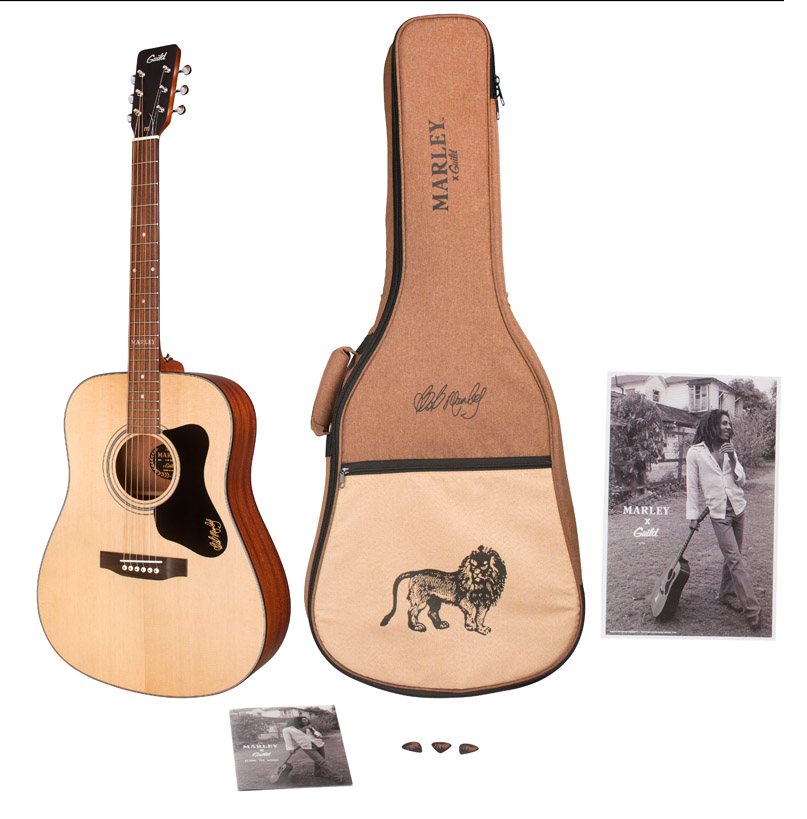 Equally important and in true "Marley" fashion, Guild and the Marley family wanted to make sure the guitar was affordable and available enough that no one was left out. And as a finishing touch, the two parties conjured up a wealth of "Marley"-inspired collectibles, including a recycled nylon gig bag, poster, booklet featuring photos and music, and custom guitar picks.
Guild Guitars and the Marley family believe the real collaboration is yet to come – between the next generation of musician and their musical instrument of choice. Whether it's an acoustic guitar, a pan flute or a conga drum, as Bob so honestly sang – "One good thing about music, when it hits you, you feel no pain".
"Musicians connect to their instrument in a unique way, as a vehicle for their expression and creativity," said Bob's daughter Cedella. "It means a lot to our family to know that a new generation of artists now have the opportunity to experience this special sound and tone for themselves." For more information on the Guild A-20 Marley acoustic guitar, click here.
#MarleyXGuild