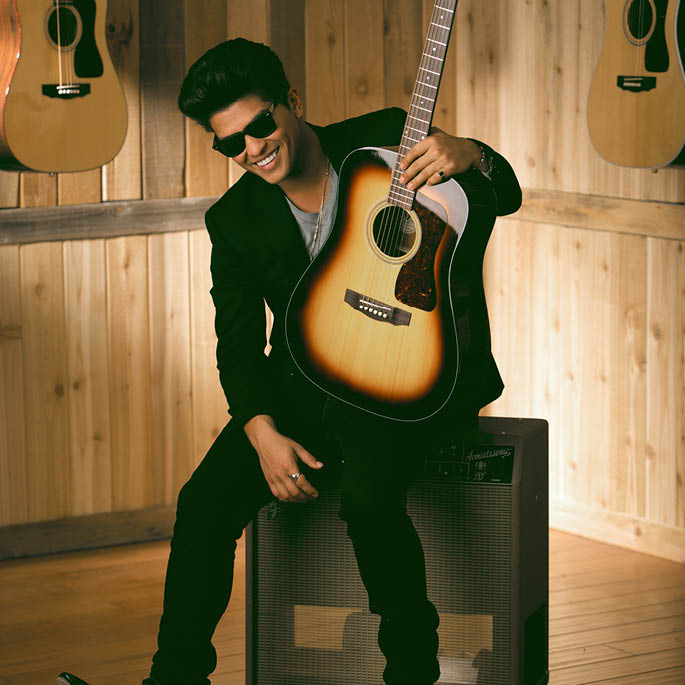 Bruno Mars, is an American singer-songwriter, record producer, voice actor, and choreographer. Born and raised in Honolulu, Hawaii, by a family of musicians, Mars began making music at a young age and performed in various musical venues in his hometown throughout his childhood. 
Mars became recognized as a solo artist after lending his vocals to the songs "Nothin' on You" by B.o.B, and "Billionaire" by Travie McCoy, which were worldwide successes, and for which he co-wrote the hooks. Mars' production formula allowed him, and his production team, to work with an assortment of artists from various genres. His debut studio album, Doo-Wops & Hooligans, released in 2010 and peaked at number three on the Billboard 200. It was anchored by the worldwide number-one singles "Just the Way You Are" and "Grenade", as well as by the single "The Lazy Song". The album was nominated for seven Grammy Awards, winning Best Pop Vocal Performance for "Just The Way You Are". 
Mars is known for his stage performances and retro showmanship that usually includes playing a variety of instruments such as electric guitar, piano, keyboards and drums, dancing and performing a wild range of musical styles, including reggae, soul and funk music.
Mars plays a Guild F-20 Standard and a Guild F-47RC w/Dtar.